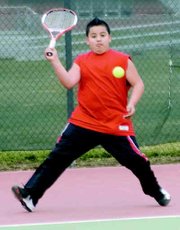 Sunnyside's boys and girls tennis teams were handed 6-1 defeats yesterday by the Davis Pirates.
Sunnyside Coach Troy Whittle said the season will be one of learning, with several sophomores and first-time players on the varsity boys team.
However, he said he was impressed again with the No. 2 doubles pair of Jonas Linde and Anthony Rodriguez, who earned a victory for the Grizzlies in a hard fought battle.
The pair defeated Nick Willett and David Paolella of Davis, earning the win 4-6, 6-3, 7-6 (7-5).
"With each match, I am seeing improvements in the players," said Whittle, who noted the season record of 0-3 for the Grizzly boys reflects a struggle. But, he added that he enjoys seeing the hard work of the young men he coaches.
Sunnyside No. 1 singles player Matt Johnson fell to Pirates netter Abe Chang in straight sets 6-0, No. 2 singles player Jorge Pacheco of Sunnyside was handed a 6-1, 1-6, 6-0 defeat by Davis's Sabastian Barrett, and Davis No. 3 singles netter John Hildenbrand earned a 7-5, 6-2 win over Sunnyside's Jay Kim. In No.4 singles play, Sunnyside's Randy DeRuyter lost 6-1, 6-2 to Pirate Chris Parrish.
No. 1 doubles players Mike Martin and Joey Zijlstra of Sunnyside fell 6-2, 6-0 at the net to Davis players Ethan Maier and Peter Moran, and Sunnyside's No. 3 duo of Anthony Aguilar and Anthony Kim was handed a 6-1, 6-4 defeat by Chris Stadler and Dan O'Connell.
In girls action, the lone victory was earned by Sunnyside's No. 2 doubles team of Sasha Castro and Hannah Marro. The pair defeated Jessica Sachara and Erica Torres of Davis 6-3, 4-6, 7-6 (9-7) after a hard fought battle at the net.
Whittle said the girls match was more competitive than the results reflected. "Our No.1 doubles have had three straight losses, however No. 2 doubles remains unbeaten on the season with a close victory," he commented.
He said the key to successful play for the girls is net play and consistency in ground strokes, stating, "Right now (they) are hurting us," he said.
Sunnyside No. 1 singles player Regina Mendez dropped her match 6-1, 6-0 to Davis's Briana Tamaki, Kate Kunkel-Patterson of Davis defeated Sunnyside No. 2 singles player Madonna Gonzalez 6-1, 6-0, Lady Grizzly No. 3 singles netter Elvira Chiprez suffered a 6-2, 6-0 defeat at the hands of Lady Pirate Leslie Baker, and Bo Kim, Sunnyside's No. 4 singles player, lost 6-1, 6-3 to Davis's Jennifer Mendez.
In doubles play, No. 1 doubles teammates Cristal Sandoval and Cindy Gudino were handed a 2-6, 7-5, 6-3 defeat by Lilian Bravo and Teresa Lopez of Davis. Sunnyside's No. 3 duo, Avalon Valencia and Jamie Zijlstra, were defeated 6-0, 6-3 by Lady Pirates Brooke Lybeck and Erika Ojeda.
The loss brings Sunnyside's girls team record to 1-2 on the season.
The Grizzly netters will return to their home courts tomorrow against Hanford.