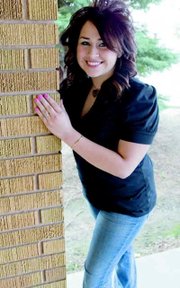 Sixteen-year-old Rubi Chavez often heard about the activities of the Miss Cinco de Mayo Court. The Sunnyside High School junior knew, for example, the court helps out in the community. She knew that being involved with the court was about helping people.
"I wanted to give it a try and see if I could experience that as well," said Chavez, explaining why she chose to compete in the 2008-09 Miss Cinco de Mayo Pageant.
She feels she will make a good addition to next year's court because she wants to set a good example of somebody who wants to help people, someone who has goals and someone who can influence girls to try out for the court.
If named to the court Chavez said her community service project will be working with Lower Valley Crisis and Support Services. Chavez will help collect old and used cell phones by placing collection boxes at the police station, hospital and clinics in the area. The collected phones will then be sent to Olympia, where they are programmed to only call 911. The phones will then be given out to victims of domestic violence and sexual assault to provide some protection.
For her talent in the April 18 pageant Chavez will sing the song Mexico Lindo, a tune trumpeting the virtues of what makes Mexico such a beautiful place.
"The song has a spirit of happiness," Chavez said. "It makes people want to get up and sing along."
The daughter of Faustino and Soledad Chavez plans on playing for the Grizzlies' soccer team this fall. She says soccer has always been kind of a hobby for her and she's grown up playing on recreation teams in Sunnyside.
Other hobbies for Chavez include listening to music, reading magazines and taking pictures.
"I always carry my camera," she said.
Chavez attends the Sunnyside Beauty Academy for half a day, learning the art of being a stylist. She said she has always been intrigued with how someone can transform themselves when entering a salon, all the way from hair color to style.
When she graduates from Sunnyside High School she said she would like to take some business classes at Eastern Washington University and then open her own salon.