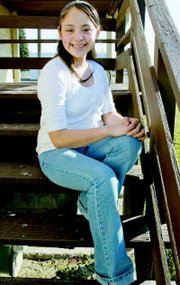 Yesenia Ruiz does a lot of community service work. The 17-year-old sophomore at Sunnyside High School helps out with National Night Out. On Halloween she goes to daycare centers to hand out candy and helps explain to children the dangers of candy that's been tampered with.
Because of her community involvement, Ruiz thought it would be fitting to try out for the Sunnyside Miss Cinco de Mayo Court, which is known for the community service it does.
Her sister was on the 2004-05 Miss Cinco de Mayo Court and that and the fact she really likes to meet new people, the decision to run for this year's court was a no-brainer.
Ruiz feels if she is named to the court she will be able to help get more girls to run next year.
"I'm a hard worker," she said. "I do not stop until my goal is achieved."
If she is named to the court, Ruiz's community service project will be working with local daycare centers in Sunnyside. She said she wants to teach the children what the meaning of Cinco de Mayo stands for. She also wants to teach them folkloric dance.
Folkloric dance is what she has chosen for the talent portion of the April 18 pageant, and she plans to dance the bailable, a type of folkloric dance from the state of Guerrero in Mexico.
"It's very challenging," Ruiz said of why she picked the dance. "You have to use your feet and your hands at the same time."
She's practicing hard for it, determined to practice until the dance flows from her.
The daughter of Angel Ruiz and Leticia Chavez has many hobbies but it's horseback riding that is her favorite.
"I love it," she said. "It just clears your head."
She owns a dancing horse named Zorro and she said she rides it at least four times a week.
Soccer is also a favorite hobby of hers. She said she plays the game all the time with her family and friends.
"I like to play against guys," she said. "They're more competition."
She earned a starting spot on the girls soccer team last season as the team's keeper and plans on playing again this year.
At school Ruiz said her favorite classes are biology and history. Biology because she gets to deal with chemicals and enjoys mixing them to see the reaction. She likes history because of all the important dates she learns.
"I like learning about the presidents and what they've done," she added.
She's narrowed down her career choices after she graduates from high school. Ruiz said she would like to become a lawyer.
She explained she likes to put forth her own ideas on cases.
"My mom also says I'm good at arguing."
If that doesn't work out Ruiz said she would like to become a bail bondsman.
"It would be a challenge," she admitted. "I would get to help people, plus chase them down if they run away from me. It sounds like fun."