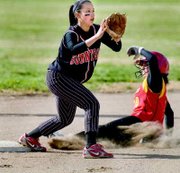 When you have a team full of young players competing against last year's league champs it can turn into a long afternoon.
That's exactly what happened this past Friday when the Kamiakin Braves came into town to take on the Sunnyside High School girls softball team.
"Kamiakin were the league champs last season and they are favored to repeat this year," Sunnyside Coach Ralph Mendoza said. "They are just a well lubed machine. It was just hit after hit."
Erica Sabedra started atop the pitching rubber and went the distance in both games for the Lady Grizzlies. She held the Braves scoreless for three of the five innings in the first game but got pounded in the first and third innings of play.
Kamiakin was able to get eight runs in the first inning and nine runs in the third off of 16 hits.
"When we got the opportunity we were getting outs, but there were a lot of solid hits," Mendoza said.
The Braves pounded out two triples and two home runs in the 17-0 win.
Sunnyside's lone hit came in the first inning when Kassie Luther led off with a double. The Lady Grizzlies also committed one error in the first game.
In the nightcap, Kamiakin's Danyelle Hutchinson shut down the Grizzly hitters with six strikeouts and recorded a perfect game as the Braves blanked Sunnyside 15-0.
"She's one of the top pitchers in the league," Mendoza said. "She throws hard and accurate. That's hard to beat."
He said his girls weren't overwhelmed by the pitches but were forced into a lot of ground balls.
"They (Kamiakin) were just making the plays and getting the outs," he said.
Sabedra scattered 16 hits over five innings, allowing six runs in the first, three in the second, two in the fourth and three in the fifth.
She recorded two strikeouts and walked two batters. The Grizzlies also committed three errors.
The Lady Grizzlies (0-2, 0-3) will face another tough opponent this Tuesday, March 25, when they host the Hanford Falcons at 4 p.m.