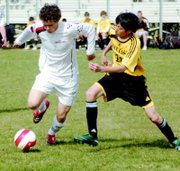 The Sunnyside High School soccer team continued its unbeaten run this season with a 1-0 shootout victory against the Hanford Falcons this past Saturday at home.
In the win the Grizzlies (3-0, 5-0) recorded their fifth straight shutout and remain unscored on for the season.
Sunnyside Coach Juan Pineda said the game was very tactical, with Hanford changing tactics and Sunnyside matching their every move.
He said the Falcons coach put Hanford's best player in center middle field to act as a point guard, directing play from there. Pineda moved Sunnyside player Matt Jongsma to mark his every move.
"He (Jongsma) did a good job of stopping him," Pineda said.
Since Jongsma was preventing the Hanford player from directing the flow of the game the Falcons began lobbing balls down to Sunnyside's goal in hope of catching the Grizzlies off balance.
Sunnyside keeper Joaquin Perez and his brother, sweeper Luis Perez, made sure that didn't happen.
Sunnyside had three opportunities to score in the first half but one shot went wide and the Hanford keeper was able to block the other two.
In the second half Sunnyside presented a stronger presence in front of Hanford's goal but still couldn't punch the ball in. Their best chance came when Jesus Solis booted a ball towards the Hanford keeper. The goalie was able to get his hands on the ball but because of the strength of the kick the ball continued to go towards the goal after going through the keeper's hands. A Hanford player behind the keeper was able to clear the ball.
After regulation play and overtime ended the two teams set up for a shootout.
Miguel Lugo and Matt Jongsma gave Sunnyside a 2-0 lead in the shootout before Hanford came back and scored three straight goals. Luis Perez connected on his attempt to tie the score at 3-3 and force a sudden death shootout.
The Falcons scored and then Emmanuel Acevedo tied things again for Sunnyside. After Joaquin Perez got his third block of the shootout, freshman Sergio Licona gave the Grizzlies the win when his shot got past the Hanford keeper.
Joaquin Perez recorded nine saves in the game, including overtime. The Sunnyside offense had seven shots on goal.
The Grizzlies will host the Kamiakin Braves this Wednesday, March 26, at 7 p.m.