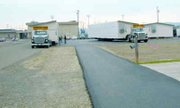 MABTON - Two new portables are currently being installed to house a new middle school separate from the senior high school in Mabton.
The project, estimated at more than $350,000, is an effort to assist in providing a focus learning environment based on the needs of adolescence for junior high school students, according to Mabton Junior/Senior High School Principal Jay Tyus.
"Kids just have different needs," he said.
He said the younger students are excited about the prospect of having their own learning environment.
The school district received two new portables, to add to an existing two, last week. They are located southwest of the existing school and will house seventh and eighth grade students in the Mabton School District beginning this coming fall. The district has plans to include sixth grade students in the future.
A discussion of the middle school transition took place last week during a town hall meeting hosted by the school district. Four presentations were provided by Tyus and Artz-Fox Elementary School Principal Dawn Weddle, in which the transition was explained to parents, students and staff members.
Also at the town hall meeting, a vote on the name of the new school was taken. Three names were selected as top contenders, however Communications Coordinator Julia Hart said there was "...no clear winner."
The names being considered for the school include Mabton Oarsmen Middle School, Mabton Middle School, Oarsmen House, Oarsmen Middle School, Mabel-Baker Middle School, Sexton Middle School, Sam Walton Middle School, Mabton Marvel, Mabeltown Middle School, Sacajawea Middle School, Washington Middle School, Valley View Middle School, Desert Valley Middle School, Mountain View Middle School and Morris Middle School.
One issue discussed at the February Mabton School Board meeting was how to provide locker space, and if it would be necessary, for the students.
The cost of the portables was more than $250,000, however there are other construction costs, including desks and other furnishings in the classrooms, associated with the installation of the school.
courtesy of Mabton School District
Two new portables arrived at the campus of Mabton Junior/Senior High School last week. They will serve as part of a new middle school beginning the 2008-09 school year.
More like this story