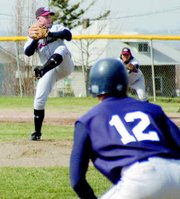 MABTON - The Mabton School Board last night stated it has decided to allow seniors not meeting state standards to appeal for the right to walk with the class of 2008 at graduation.
"We have a desire for students to work to achieve high standards," said Elsa Sanchez, Mabton School Board member.
She said allowing a student who hasn't met state standards to walk with the graduating class sends a message. The message the school board members agreed it wishes to send is that Mabton recognizes students who have worked for their diploma.
Sanchez said students must meet both district and state mandated standards to receive a diploma, however.
"A student can appeal for the right to walk, but they are not guaranteed they will be allowed to do so," she stated, adding that students who have appealed the right to walk and are granted that right must understand they will not receive a diploma at the graduation ceremony.
Sanchez added that those students will receive their diploma after they have met state standards.
Students seeking an appeal must do so in writing. This year, they are to submit the appeal between April 1 and May 1, 2008.