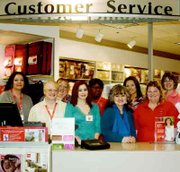 Sunnyside's JC Penney is part of the community, according to store manager Jonica Bridges.
The store recently was awarded its seventh Chairman's Award of Excellence, and she credits the honor to its associates.
"The consistency is credited to the team associates, who are dedicated to quality customer service," she said, stating one associate has been with the Sunnyside store for more than 30 years.
The store has earned the coveted award for five consecutive years, and Bridges said she believes the honor can be attributed to the store associates' realization of the importance of the store. She said they believe in a continued involvement in the community.
"We play an important role in the daily lives of those around us," Bridges noted, saying the store had to be in the top 15 percent of all 1,060 stores to earn the award.
There were 152 stores that qualified for the award, however 124 stores were in the top 15 percent, including Sunnyside.
Bridges said there are four criteria to qualifying for the Chairman's Award of Excellence. They include a sales gain over the previous year, an operating profit over the previous year, a sales gain and a profit over the company plan for the store.
She said the Sunnyside store ranked 48th out of the more than 1,000 stores overall.
"I am so proud of our team," Bridges commented, stating the store's customers are loyal and often are considered extended family to the associates. She explained customers share their lives with those they come in contact with at the store, communicating coming events while on a shopping venture.
Bridges said it brings meaning to the company's current slogan, "Every Day Matters."
"Ultimately, it (earning the award) is a combined effort between the team of associates and the customers we serve," she concluded.