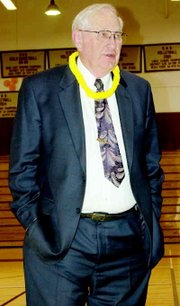 GRANDVIEW - Grandview School District hosted a community forum last night, with discussions regarding teen alcohol and drug use, depression and suicide and involvement with gangs.
The forum, held at Grandview High School, included guest speakers on the variety of issues today's youngsters deal with.
Superintendent Kevin Chase opened the evening stating, "We are talking about youth in Grandview, the Lower Valley, Washington and across the country tonight."
He said the purpose of the forum was to assist adults in their endeavor to raise today's youth to becoming responsible adults.
"We need to take responsibility for our youth," he noted.
Senator Jim Honeyford spoke to those in attendance following Chase's introduction. Honeyford (R-Sunnyside) briefly provided a summary of recent gang legislation that was enacted in Olympia.
He explained that several portions originally in the gang bill were removed before it was passed, and he said, "We hope to enact the civil injunction legislation that was taken out of the recent bill."
Several students from Compass High School were at the forum to share their commitment to participating in programs that promote healthy decisions. Included in the programs is the Reduce Underage Drinking program the students are already involved in.
They communicated to the adults at the forum their feelings that promoting such programs is beneficial to their peers.
"Every 15 minutes someone dies in an alcohol-related accident," said Violet Greene-Bussell. She explained that she feels the reality of that fact is an important message to provide to other students.
The attendees then broke into two groups. One group attended a session on teen depression and suicide, featuring guest speaker Lindy Anderson.
The other group heard from Grandview High School Intervention Specialist Paul Jepson, who spoke about the resources available to Lower Yakima Valley residents dealing with substance abuse.
Formerly an employee of Sundown M Ranch, Jepson said the community is fortunate to have a nearby facility that is ranked among the top three substance abuse treatment centers in the nation.
He said children as young as 8-years-old have been susceptible to addiction and there is a need for strong adult role models to assist youngsters from becoming addicts to either alcohol or drugs.
Also, within the school district are two intervention specialists, including Jepson. He said the intervention specialists are located in the school district as advocates for students.
"We realize addiction is a disease," he commented, stating that such a realization provides opportunities to assist youngsters in seeking treatment.
Jepson also said there is a need to break down the stigma involved with addiction, explaining that an addict is not a "bad person...they are someone who needs treatment."
He said the role of educators and the intervention specialists is to assist a student to excel.
Jepson also noted that the intervention specialists are seeking opportunities to provide programs for students, such as Students Against Destructive Decisions.
Veronica Santangelo of Casa de Esperanza voiced her opinion regarding the goals of the intervention specialists in the Grandview School District, stating, "Information is power." She praised Jepson and his fellow specialist, Carolyn Schlax, for their ability to work with students, providing opportunities for them.
Sunnyside Police Detective Jim Ortiz and Grandview Police Officer Rob Colley both spoke to the audience about gangs in the community.
Ortiz's message was that gang members can look like any other youngsters due to the ability to adapt. He said vigilance and education are the key to awareness.
"Do not stereotype," Ortiz advised, explaining that today's gang members sometimes wear attire that includes polo shirts and slacks. He said the small logo on a polo shirt could be what signifies gang affiliation, however police have a verification process for identifying a gang member.
Colley spoke briefly on the strengthened ordinances that recently were approved by Grandview City Council. He said it is the responsibility of parents to be aware of a youngster's activities.
Colley also encouraged the community members at the forum to provide a positive environment for youngsters.
Chase concurred with Colley stating, "Give them a sense of belonging."