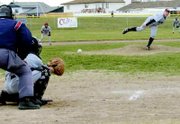 GRANDVIEW - For the first two innings of yesterday's match-up between the Prosser Mustangs and the Grandview Greyhounds it was anyone's game.
Grandview's Trent Mottice was pitching a good game but ran into some trouble in the second inning, allowing Prosser to get five runs in the frame.
"In the second we committed a few errors, walked a few batters and then Prosser started hitting him," Grandview Coach Bruce Davison said. "The game kind of got out of hand after that."
Indeed, as Prosser erupted for 15 runs in the third inning as Grandview struggled to find a way to get out of the inning.
Mottice was replaced by Josh Bertsch. Then he was replaced by JoJo Garza. Finally, Jacob Rinehart was called in and he managed to get the Greyhounds out of the inning and pitched the final two innings.
In that devastating third inning the four Grandview pitchers combined to walk seven batters and hit two Mustang players to give them free passes. There were also three errors committed by the Greyhounds in the inning.
Grandview got one back in the bottom of the third and then scored one in the fifth but by then it was too late and the 10-run mercy rule was invoked and the game called with the score 22-2.
"Right now we're having trouble fielding the ball," Davison said. "Prosser played good defense and had a few strikeouts. Our biggest learning curve is youth, there is not one senior on the team."
Grandview (2-4, 2-6) has had a tough time this year, Davison said, but his kids are learning to play at the varsity level.
Prosser's Javier Gonzalez and Cory Christen combined to limit the Greyhounds to just one hit, a single by JoJo Garza. Both Garza and Abel Valenzuela scored runs for Grandview.
Cole Groom went 4-for-4 for the Mustangs. Prosser's Daniel Gannon was 2-for-4 with a double and three RBIs. Teammates Jesse McGrew went 2-for-3 with three RBIs and Scott Donovan was 2-for-5 with a double and two RBIs.
"Prosser was solid and their pitchers did their job," Davison added.
Grandview will travel to Wapato this Saturday, March 29, for a doubleheader starting at 11 a.m.