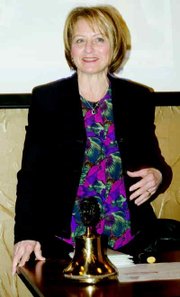 Pregnancy medical clinics sprung up in response to abortion clinics, according to Jan McDonald of Grandview's Life Options.
She was the featured guest speaker at Wednesday's Sunnyside Daybreak Rotary Club meeting.
McDonald explained the services provided through Life Options to the Rotarians, saying that one out of every four children conceived are aborted.
Her organization assists women and their male counterparts in making decisions regarding an unexpected pregnancy. It serves young women and older women, providing educational services regarding pregnancy, abstinence, relationships, support and assistance.
Life Options provides pregnancy testing and limited ultrasound services, as well. McDonald said, "It is amazing for a person to see their child for the first time through an ultrasound."
She emphasized the point, stating that of the 212 ultrasounds the organization has performed, 119 of the women were vulnerable to abortion and 97 of those chose to carry their child to term.
Life Options is also seeking to extend its services. McDonald said the organization is hoping to provide sexually transmitted disease testing in April. It is also hoping to provide services in Sunnyside, soon.
Services were recently added to assist men. McDonald said it is invaluable to have services for men because "...they are extremely important in helping women make decisions."
McDonald also explained that young men need role models and are often unaware of their role as men.
Life Options' men's ministry began to assist men in realizing their role. The organization provides parenting classes, encouragement and assistance in education, counseling and educational advice on sexual integrity. Its counselors also talk to the men about Jesus if they are receptive to faith.
The organization also provides an abstinence program referred to as Abstaining, Waiting and Respecting Each Other. The program is designed to assist teens seeking information on abstinence.
Ultimately, McDonald said, the purpose of Life Options is to create a positive impact on the communities it serves.