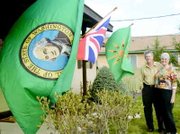 Maureen Rouse is so creative, it stands to reason that when she found out Sunnyside doesn't have an official city flag, she'd simply design one.
Rouse and her husband, Dr. John Allen, had already demonstrated their pride by hanging three other flags.
It all began with Allen's son Nigel, who had a strong desire to see the American flag hung at the home on Bagley Drive.
Next, the family acquired a Washington state flag. Rouse, who hails from England, said her mother then sent her the British flag.
"We had one pole left and we decided it had to be Sunnyside," said Allen.
Rouse then set out for the Sunnyside Chamber of Commerce. It was there that she learned Sunnyside doesn't have an official flag.
Throughout their home, it's obvious that Rouse, a former Oxford art student, is creative.
The walls are covered with treasured collections, like a grouping of horse brasses (decorative harness items), and beach combing treasures from trips to the ocean. In the kitchen, cookie cutters are decoratively hung.
If the walls aren't covered with treasures, they're covered with painted art. The bathroom, for example, is like walking into a tropical forest. The bedroom wall features a painting of angels.
When it came to creating the flag, Rouse chose to go with a sun, with all but one ray of light bearing a letter from the word Sunnyside.
Designing it was one thing. Physically making it was an entirely different matter.
"I had a couple goes at it," said Rouse. "I tried sewing it and it dulled the needles. I tried glue, but then I could see the glue." She then resorted to a familiar tool: paint. "I just kept adding to it."
With all the materials used, Rouse joked, "This flag is never going to fall apart!"
Sunnyside Chamber of Commerce Director Pam Turner is impressed with Rouse's creation. "I think it's a really neat idea," said Turner. "Very unique. Clever, actually."
Turner also added that it was a great way for Rouse to demonstrate her pride in the community.