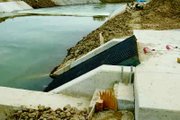 PUNKIN CENTER - Construction on a Sunnyside Valley Irrigation District re-regulation reservoir was brought to a halt last week when the embankment around the in-let structure gave way.
The re-regulation reservoir is being built by Tapani Construction of Battleground, Wa. just north of Granger in an area known as Punkin Center.
The reservoir will regulate the level of water in the SVID canal system. When excess water is flowing through the canal, water will flow into the reservoir and when the canal's water level is low, water from the reservoir will be pumped back into the canal.
SVID General Manager Jim Trull said priming on the canal system started March 17 and on Wednesday the embankment failed. Although the project is not complete the structure of the reservoir is complete.
Water flowed from the canal through the breach into the reservoir filling it approximately one-thirds full. Tapani Construction made the necessary repairs and SVID continued priming the canal system last Saturday.
Trull said the repairs included digging out the area around the breach and stabilizing it with concrete.
Because the lining of the reservoir had not yet been installed, some water escaped from the reservoir through the built-in interceptor drain. The drain is built specially to alert SVID officials to any leaks in the reservoir.
The amount of water that escaped was not of any consequence, Trull said.
Construction crews were in the early stages of installing the lining to the reservoir when the breach occurred. Crews are now continuing to install the lining and the project completion date is still on schedule for July.