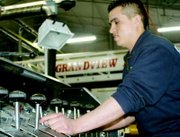 GRANDVIEW - When Omar Gomez signed on as a volunteer fireman for the Grandview Fire Department, he was simply looking for "something different." Now, little more than three years later, he's hooked.
"There's some excitement in it," says Gomez, adding that the community service has turned out to be much more intense than he originally thought.
Gomez was recently recognized as Grandview's most improved fireman of the year by his peers and superiors.
Gomez says that when possible, he goes on every call the department gets, whether it be aid calls, vehicle accidents or fires.
When arriving at an emergency scene, Gomez said it's almost as though he's operating on auto-pilot. "Your body just starts to do it. It's what we train for."
This past year, Gomez has been learning how to operate the pump engines.
"The area that he's probably excelled the most in is in operating equipment," explains Grandview Fire Chief Pat Mason. "Driving trucks and operating pumps."
When Gomez operates a pump at a fire, it's mandatory that he stay with the truck until receiving an all clear from the chief. Gomez ensures water flow and must alert firemen should water flow drop.
"If we lose our engine, I have to notify (the chief) and we have to get the (firemen) out," Gomez explained. Thankfully, he adds, "We've never had it happen and we never want it to happen."
Gomez only has one firetruck left to master--the aerial.
Gomez's learning doesn't stop there, though. He's currently training in the officer's program. Once that's complete, he'll direct the group of firefighters that arrive on his engine to carry out the chief's commands. That training, he said, will take about a year.
Gomez said there are many rewards that come with the job of being a volunteer firefighter.
In the case of a recent attic fire in Grandview, firefighters were able to promptly begin removing valuables, like pictures and furniture, from the home.
"It was a good call from (the chief). Some people aren't so fortunate," says Gomez. "We saved a lot."
Gomez said he was surprised to learn he'd been named most improved fireman.
"It was very surprising. We all do our part," he says.
Gomez lives in Grandview with his wife, Vanessa, and his two children, Christian, 7, and Elyan, 3.