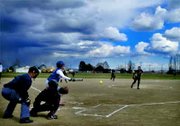 Sophomore Hilari Bosma cracked a pair of home runs Thursday afternoon, one in each game, to power the Sunnyside Christian High School girls fastpitch softball team to a doubleheader sweep of the LaSalle Lightning.
The 7-4 and 5-1 victories over the visiting Lightning were the Greater Columbia 'B' League openers for both teams. The other schools in the combined 1B and 2B league were unable to field softball teams this spring, leaving just Sunnyside Christian and LaSalle to play one another for the conference championship. The two teams meet again on Tuesday, May 6.
Bosma, besides leading the Lady Knights at the plate yesterday, picked up the first game victory atop the pitching rubber. The left-handed hurler struggled at times with her control, issuing eight walks, but fanned 10 in going the distance. She scattered six hits.
In defeating LaSalle by a 7-4 score in the opening game, Bosma enjoyed a crisp 3-for-3 performance at the plate. She socked a solo homer in the bottom of the third, when the Lady Knights took control of the game with a four-run uprising. Bosma ended up plating three runs for Sunnyside Christian in the opener.
Also coming through big for the Lady Knights in the opener were sophomore Julie Long, junior Naomi den Hoed and senior Emma Newhouse, each of whom lashed a pair of hits. Sophomore Ashley Haak also had a key hit for Sunnyside Christian, spanking an RBI double in the team's four-run third frame.
Haak was given the ball in game two and the right-hander spun a gem for the Lady Knights. She didn't give up a single walk while striking out seven in her team's 5-1 win.
Offensively in game two for Sunnyside Christian, Long went 2-for-3, which included doubling in the bottom of the third, when the Lady Knights pushed three runs across the plate. Bosma added a solo home run in the third. Abby Bangs also came through with two hits in the nightcap for the winners.
Sunnyside Christian will be out of action all of next week, spring break, but is scheduled to host Kittitas for a single non-league game on Tuesday, April 8.