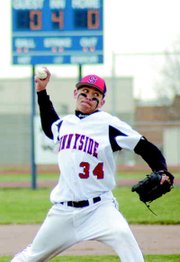 Things started promisingly enough for the Sunnyside High School baseball team last Friday, as the Grizzlies were knotted at 0-0 through the first four innings in a home twin bill with West Valley.
But things unraveled from there, as Sunnyside lost to the Rams 6-0 in game one and 14-2 in game two, which was shortened to five innings because of the 10-run mercy rule.
West Valley finally nicked Sunnyside game one starter Frankie Salcedo for three runs in the fifth inning. The Rams did the damage with only one hit, as the Grizzlies hurt themselves by issuing two walks and committing an infield error.
West Valley put the contest away with three more runs in the top of the seventh, sandwiching three hits around a Sunnyside fielding error. The Rams outhit Sunnyside for the contest 10 to 4.
The Grizzlies' best scoring threat came in the fourth, when Salcedo coaxed a walk, stole second and went to third on a sacrifice bunt before he was stranded.
Salcedo went the distance in the opener, striking out four.
West Valley removed all doubt early in game two, pushing across seven runs in the third inning. The Rams had another big frame in the fifth when they plated five runs.
West Valley's decisive third inning outburst was keyed by three hits, but again aided by the Grizzlies with two errors and a pair of walks.
In game two the Rams batted around for 13 hits off of three Sunnyside pitchers, starter Gibby Briones, along with relievers Tristan Abbott and Buddha Palomarez. Grizzly fielders also surrendered six errors.
Sunnyside got on the scoreboard in the fourth inning when Salcedo delivered a base hit, then advanced around the bases on a pair of fielder's choices and a West Valley error.
Nate Cornelius sparked the Grizzly offense in the fifth inning for the other Sunnyside run after he smacked a triple and came home on a West Valley error.
Sunnyside Coach Terry Shines said the problem is the Grizzlies reverted back to some of their old habits in watching too many pitches sail by and not swinging the bat.
Sunnyside infielders, he added, again struggled with fielding ground balls.
Shines said his team will continue to practice fielding ground balls in full-speed drills. "We cover the bunt and throw the ball away. A ball is hit to us and we don't get in front of it," Shines said of Sunnyside's fielding woes.
As far as Sunnyside's offense, Shines noted, "We need to make adjustments. I can get little league kids to do what we're asking but can't get the older kids to do it." Shines said he is thinking of giving more playing time to JV players such as Oscar Hernandez and Chance Graff who have shown some aggressiveness at the plate.
There are rays of hope, though. Sunnyside's record of 2-4 in league and 3-5 overall is better than last year's winless campaign and Shines said Sunnyside batters are hitting at a much better pace compared to last year.
The Grizzlies will look to get back on track tomorrow, Tuesday, when they play at Eisenhower High School.