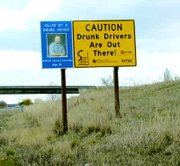 Yakima County has three signs with the photographs of drunk driving victims pictured on them along its freeways.
That's according to Edica Esqueda, who works with the Yakima County Traffic Safety Taskforce.
She said the signs are ready to be updated, however funding for the project fell through last year.
"With funding once again becoming available, we are seeking families willing to allow us to use a photo of a loved one who was a victim of drunk driving," said Esqueda.
She said finding families willing to participate in the program is the first step to updating the signs.
Once the families have agreed to participate, Esqueda said the taskforce will seek funding through grants and other financial resources.
"We hope to possibly update the signs by this summer," she commented.
Esqueda said, because Yakima County is a small community, the signs play a significant role in promoting awareness of the effects of drunk driving. She explained by stating that featuring a local person brings the issue to the forefront.
She said many people are touched by the lives of others in the community and when a loved one is lost, who is familiar to community members, more people become alerted to the loss when in a small community.
"They might know the victim or people who felt the loss of the victim," Esqueda clarified.
She also said the taskforce has been involved in promoting drunk driving awareness through the X-52 program. The program resulted in 17 drunk driving arrests in the Yakima Valley over the Easter holiday weekend.
X-52 is a program which provides traffic safety emphasis patrols to reduce speeding and incidents of drunk driving.
"We (the Yakima County Traffic Safety Taskforce) want people to be safe and think ahead and/or have designated drivers," Esqueda said.
Regarding the signs along the freeways, she said the taskforce wants families who currently participate in the program to be comfortable with the changes.
"The signs are not memorials, rather they are awareness tools," Esqueda noted, stating that the taskforce would like to let the current families know before the actual changes are made.