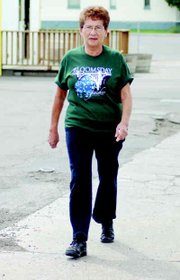 A friend invited Connie Sandoval to go walking in 1988 and the Sunnyside resident hasn't stopped.
This Sunday will mark Sandoval's 20th time to walk in the seven-and-a-half mile Bloomsday Run in Spokane.
She's completed each of her previous 19 Bloomsday walks, claiming the shirt that goes to each finisher. One time she did it with a dislocated shoulder. Another year, Sandoval finished despite getting knocked to the ground in the crush of Bloomsday participants. "I never quit a walk," she smiled. "I even finished with blisters on my feet."
Sandoval's determination is no surprise to those who know her.
After her husband died, she raised five children on her own while working and going to college.
"We had some tough times but the family is really strong," says one of Sandoval's daughters, Sylvia Sandoval Hall of Vancouver. "She never gave up, she always had faith and worked hard."
Sandoval is able to finish Bloomsday each year, in part, because she finishes a five-mile or so walk in the Sunnyside area each week day. By a conservative estimate she's walked about 24,000 miles over the past 20 years.
In her preparation now for Bloomsday, she's readying for the course's hilly terrain by walking up Sunnyside's hill. Sandoval said part of the Bloomsday fun is the thousands of spectators lining the course. "There's 60,000 people cheering you on," she smiled.
Sandoval has her own cheerleading crew when it comes to another walk, the walk of life. Sandoval remarked that she only had a sixth grade education in school and that it took her three months to get her GED. Completing teacher training at CWU was a daunting task.
"There were a lot of people behind me, that had faith in me," she said through tears. "One time I was ready to drop out of college," she continued. "But my kids asked me what I was doing because I always told them not to quit." Sandoval stayed, she says, "to set an example."
Sandoval described how her daughter, Sylvia Sandoval Hall, and her son-in-law Rick would help with the homework.
"She was still going to college when I got married," says Sandoval Hall. "We were her typist and proof reader. Rick helped her with math and her essays." He also helped Sandoval with her toughest subject of all, chemistry.
Sandoval passed the courses, passed the tests and went on to a teaching career at Sunnyside's Washington Elementary School before retiring in 2000.
Most of the cheerleading crew will be on board for Sandoval's 20th Bloomsday walk this Sunday, as her four daughters and one granddaughter will walk with her for the first time.
"It's going to be great," says Sandoval Hall. "I have to get in shape to go for a walk with my mom." She noted that the walks have been good for her mom, keeping her young in heart.
"People call her my sister," she laughed. "That's okay, as long as they don't think she's my younger sister!"
The Sandoval family walk in Spokane this Sunday is not just about a stroll together. It's about honoring a lifetime of persistence.
"I'm pretty proud of her," Sandoval Hall said of her mom. "Her life is an example of discipline."