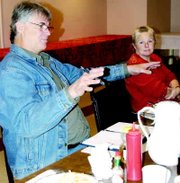 PROSSER - Washington State University's Ag Weather Net website provides growers with weather data and disease models.
That is according to Dr. Gary Grove, director of the website, who spoke at Thursday morning's Washington State University Extension Services' grape fieldman's breakfast in Prosser.
He told members of the grape industry that the site is continuing to grow, providing additional data for members of the agricultural industry.
Many of the features on the site can be added to a favorites list to allow ease of use for those utilizing the site, according to Grove.
He said the website is the result of grants provided by Washington Wine Industry Foundation and its features and interfaces continue to develop.
Grove stated that the software company the university has been working with, Four Quarters Software, continues to develop models for disease management and other features beneficial to growers.
Disease models include a powdery mildew model and Botrytis Bunch Rot model, he noted.
Grove said the website provides weather data in addition to notifications of a variety of risk indexes.
Summary outputs and information about fungicides are also available on the website.
Wayne Worby of Four Quarters Software spoke briefly to the grape industry members, stating that the program being used for Ag Weather Net is still in the development stages.
"We are trying to ask members of the industry 'What do you need?'" said Worby.
He told those in attendance that his company is working toward creating a better communication tool for the agricultural industry.
Worby said he believes information should be accessible and easily shared among growers and other ag industry members.
"We are listening," he concluded.