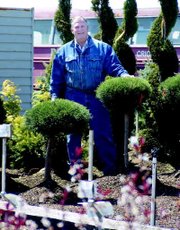 RICHLAND - Sunnyside's Jordyne Jaquish swept to three first-place finishes yesterday, Thursday, in a CBL dual track meet with Hanford and Kennewick at Hanford.
Jaquish won the 100 high hurdles (17.85), high jump (5-2) and the long jump (16-8.5) to help the Lady Grizzlies to 42 team points against the host Falcons and 56 points against Kennewick. Hanford and Kennewick scored 96 and 90 points, respectively, against the Sunnyside girls.
Another key contributor for the Lady Grizzlies was Claire Schilperoort, who posted first-place marks in the discus (111-7) and the javelin (122-1). The senior was also fourth in the shot with a throw of 30-7. Schilperoort's mark in the javelin was a personal best and she set her season's best mark in the discus at Hanford.
Freshman Jocelyn Yanez captured first place honors in the 1,600 meters with a time of 5:47.82. It was her best clocking ever in the event, despite running with an untied shoe. Yanez also set a personal best mark of 2:36.06 in the 800, good for third place.
Sarah Kilian was second for Sunnyside in the shot with a mark of 31-8. The junior's throw was topped by only Haley Tank of Hanford, who threw 31-9.5.
Sunnyside's Amber Rodriguez was fourth in the discus with a mark of 88-2, and teammate Teresa Ramos was fourth in the 800 with a time of 2:38.84, and fourth in the javelin with a mark of 88 feet.
Katie Herndon was third for Sunnyside in the pole vault (seven feet) and fourth in the triple jump with a leap of 29-9.5.
The Lady Grizzlies 4x100 relay team of Herndon, Tanya Lugo, Rica Parramore and Ayla Schmick was third with a time of 56.47. The 4x200 relay foursome of Herndon, Jaquish, Ramos and Yanez was also third, posting a time of 1:58.64.
In boys competition, Roy Haringa of Sunnyside was a double winner, taking home first place honors in the 110 hurdles (16.18) and 300 hurdles with a personal best clocking of 41.76. "It was his first time under 42 seconds," said Sunnyside Coach Robin Bryson.
All told, the boys lost to host Hanford 107-34 and Kennewick 78-58.
Kennedy Sarmiento was third for the Grizzlies in the 110 hurdles with a time of 16.5.
Sunnyside's Jose Madrigal and Victor Rios had back-to-back finishes in both the 100 and 200 meter runs. Madrigal and Rios were second and third, respectively, in the 200 with times of 24.11 and 24.47. Hanford's Levi Luca won the event in 24.03. Madrigal and Rios were third and fourth, respectively, in the 100 with times of 11.92 and 12.09.
Gracen Gonzalez was third for Sunnyside in the 1,600 in 4:39.47, and teammate Gilberto Villalobos was also third in the 800 in 2:08.65.
Madrigal, Rios, James Sanchez and Sarmiento teamed up for first place honors in the 4x100 relay with a time of 46.15.
In throwing events, Brice Rinehold was first for Sunnyside in the discus with a mark of 127 feet, and third in the shot with a throw of 40-1. Teammate Kyle Pearson was fourth in the shot with a throw of 38-9.
Sunnyside's varsity track and field athletes have just one more regular season event to improve their marks for Districts, and that comes tomorrow, Saturday, at Prosser.
"We had a very good meet, some good performances," Bryson said of yesterday's effort at Hanford. In looking ahead to Prosser, Bryson said the Grizzlies have several athletes "on the bubble", just on the edge of earning one of the District meet's 16 berths in each event.
She noted, for example, a good performance at Prosser could help some on the bubble such as Villalobos in the 800, Jacob Rogers and Rios in the 3,200, as well as Efrain Silva and Jose Mendoza in the 400.