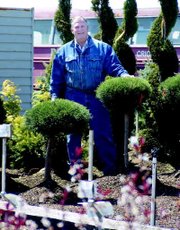 Thirty years ago, then sheriff's deputy Gary Warwick created a second job for himself delivering lava rock to area landscapers. That business blossomed into Lava Rock Nursery in Sunnyside but it has now changed hands to Guy Auld.
"It's killing him to leave that," says Warwick's wife, Billie of the sale. "The only reason that we're leaving...we've put a lot of love into the nursery and we're sad to leave it," she said, struggling to find the right words. "We're sad to leave it, but because of Gary's illness, we decided it was time to slow down."
Mr. Warwick has spent the last two years battling lymphoma, a form of cancer.
Technically, the Warwicks aren't leaving. They'll divvy up their time between Paradise Valley, Idaho and Sunnyside.
In the meantime, they'll keep their own personal Paradise, a boutique in the Mid-Valley Mall, open.
In fact, it's vital to Gary's health that they do.
"The reason we opened Paradise was to put money aside for (his care)," explained Mrs. Warwick. "Without Paradise, we don't have insurance. Paradise is basically our income."
When asked about her husband's prognosis, she shook her head. After a pause, she said, "A bone marrow transplant could help him."
Sentimental reasons exist for keeping the shop in the mall open, too.
"It's our way of staying involved with the people we've met, loved and cared about. Especially the people that have come to trust us," she said.
They'll still be involved in the nursery, as well. "Our intention is to help Guy (Auld) out as much as possible," she said.
After retiring a year and a half ago, Auld says, "I found I just didn't have quite enough to do."
About a year ago, he began discussions with the Warwicks to purchase Lava Rock Nursery, he said. "I thought it would be a wonderful opportunity to provide landscaping services to the Lower Valley."
Auld says he'll put his own personal touch into the business, but, he added, "There's a lot of uniqueness we're going to try and keep."
Auld said that would include trying to keep the old west "town" Mr. Warwick recently erected at Lava Rock, which has been a big draw to the nursery.
Landscaping will be one of Auld's main focuses, he said, whether that means delivering plants and trees for the homeowner to plant or providing the actual landscaping service itself. Auld also said he has a team that can design and create fountains and ponds, even koi ponds.
In addition, Auld said Lava Rock Nursery can install sprinkler systems. "Now's actually the perfect time (for that)," he said.
Auld's been in the valley for 25 years. He's farmed, worked as a cellar master for Ste. Michelle at Canoe Ridge and has been a small business owner. "My ex-wife and I started Chukar Cherries and she currently runs it," he said.
Of his work experience, he says, "I have varied experience."
Mrs. Warwick encourages those who've always enjoyed Lava Rock Nursery to continue to do so. In fact, her catch phrase for those who've visited the nursery has always been, "Come, bring your lunch and think about us," while enjoying the view.
In the meantime, Billie Warwick has a pearl of advice.
"We just want everyone to really enjoy life and know that life's important," she said.
"Your paradise is where you make it."