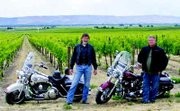 PROSSER - Registration is in full swing for the first ever Moteur de Vine fundraiser ride scheduled for Saturday, May 17.
Motorcycle enthusiasts from around the Pacific Northwest will tour the vineyards of the Yakima Valley, Horse Heaven Hills and Red Mountain.
Led by local winery and vineyard owners Bill denHoed, Scott Pontin and Dick Beightol, the day will include visits to world-renowned vineyards and wineries, including a catered lunch at Columbia Crest Winery in Paterson, hors d'oeuvres at the new Col Solare Winery on Red Mountain, and ending with a barbeque dinner prepared by Chef Frank Magaña of Picazo House Catering. Dinner will include a whole, rotisserie-roasted pork.
Following the ride, the dinner, an auction and dance, featuring local favorites The Dirty Rivers Blues Band, will be held on the grounds of the Yellow Rose Nursery in Prosser.
Proceeds from the event will benefit the Walter Clore Wine and Culinary Center to be located in Prosser.
"Regardless of what you ride...BMW, Yamaha, Honda, Ducati, Harley, Victory...the tour will offer riders the chance to become familiar with some of the vineyards and winegrape growers whose fruit is used to create internationally recognized wines," said Pontin, th co-coordinator of the event and owner of Pontin Del Roza Winery in Prosser.
"The ride will also be a great opportunity to meet new people, have fun and benefit an excellent cause," said Pontin. "The Clore Center will impact the economy of the entire state of Washington by promoting agritourism and culinary and wine tourism."
The Walter Clore Wine and Culinary Center will be a centrally located, must-see landmark destination that promotes farm-to-table agritourism. Through dynamic interactive displays, visitors will learn about and more fully appreciate the quality and diversity of Washington's food and wine products.
The Moteur de Vine motorcycle ride will begin with a registration session at Prosser's Desert Valley Power Sports, starting at 9 a.m. An hour later, at 10 a.m. sharp, motorcyclists will depart the motorcycle and recreational vehicle shop. Lunch will will be served at 12:30 p.m. at Columbia Crest Winery in Paterson, with the dinner, auction and dance following at 6:30 p.m. at Yellow Rose Nursery in Prosser.
Participants must be at least 21 years of age, and those interested in participating in the day's activities are encouraged to pre-register by next Monday, May 5, to ensure t-shirt size. The cost to participate is $100 per single rider or $150 per double, which includes lunch and dinner, as well as a commemorative t-shirt and wine glass.
For those who don't want to participate in the tour, but would like to support the event by attending the dinner/dance, tickets are available at a price of $50 per person. Registration forms can be downloaded at the website at www.moteurdevine.com.