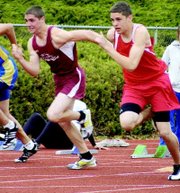 PROSSER - Grandview's Keagan Christensen and Joseph Babcock performed well this past Saturday, earning victories in the discus and triple jump, respectively, at the Prosser Invitational track meet.
Christensen out threw his competitors in the discus, with a throw of 132-8. The runner-up, Travis Sharp of Kennewick, was more than seven feet short of Christensen's mark with a distance of 125-6.
Grandview Coach Jared Lind said of Christensen's performance, "That was pretty good for him because he hasn't thrown in the last week." He stated that Christensen had been unable to practice due to his attendance at DECA nationals.
Babcock impressed Lind with his triple jump victory. Lind said, "He has been fighting a bad ankle..." and went from a shortened approach.
Babcock won the triple jump event with a leap of 42-4. The runner-up in the event was Robert Jessop of Kennewick, who finished less than four inches short of Babcock's mark.
Lady 'Hound Anna George also excelled at the invite. She hurled the javelin 124 feet for runner-up honors behind the 127-5 mark of Selah's Kierstin Wilson.
In the discus, George earned another runner-up finish, throwing for 121-9. The winner of the event, Ana Zapien of Prosser, threw for a distance of 133-9.
George also earned third place honors in the shotput. She threw for a distance of 35-5.5, one foot shy of the winning mark of East Valley's Raisa Yates. Yates outdistanced George with a throw of 36-4.5.
Lind said he feels George is getting close "...to putting it all together."
George added her athleticism to the efforts of Grandview's 4x200-meter relay team. She and teammates Emily Caraway, Kealey Johnston and Krystal Martinez earned runner-up honors in the event, posting a time of 1:53.74. The winning team was Ellensburg with a time of 1:53.06.
Three Greyhounds earned third place honors in their events. They included Storm Shea, Jordan Sanchez and Johnston.
Johnston leapt 34-.25 for third place honors in the triple jump. The winning leap of 35-10 was made by Richland's Shaniae Lakes.
Sanchez clocked a time of 4:41.89 in the 1,600-meter run. The victor was Odessa's Matt Cronrath, who finished in 4:31.66.
Lind said, "(Sanchez) dropped his time 14 seconds...that is a personal best and a good time for a sophomore."
Shea competed in the pole vault, earning third place honors with a height of 12-6. He was two feet shy of the winning pole vault performance of Wes Ferrell of Ellensburg.
Lind was also impressed with the personal best performance of Grandview's Jose Mendez in the 3,200-meter run. Mendez dropped his time in the event by 10 seconds, clocking 10:35.67 for seventh place honors.
Mendez also performed well in the 1,600-meter run. He finished the event with fifth place honors with his time of 4:49.70.
Grandview's Raissa Licano also received notice from Lind with her fourth place finish in the discus. Licano threw for a distance of 107-10 in the event, which was her personal best.
Lind said he feels confident with the performances of his team and continues to see improved performances at each meet.
The Grandview track and field team competes again at sub-districts this coming Friday, May 9, in Prosser.