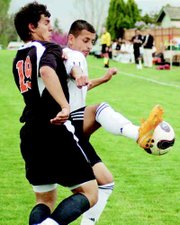 GRANDVIEW - "One more game and the ticket is punched!" Coach Anne Holden told the Grandview High School soccer team this past Friday following a 4-1 win over visiting Ephrata.
The Greyhounds (12-3 overall) won the first-round District playoff opener in convincing fashion over a Tiger team that just two weeks ago nearly pulled an upset over CWAC South champion Grandview.
Friday's win, coupled with a victory this Tuesday, tomorrow, at home against East Valley, will clinch a berth in the District finals and a spot in the State playoffs.
Though Friday's final score appears lopsided, East Valley came out firing with two solid shots swatted away by Grandview keeper Teclo Perez.
The Greyhounds took over from there, as Oscar Guerrero scored in the 13th minute when he headed in a corner kick by teammate Bruno Cortez.
It looked like it was going to remain 1-0 through the rest of the first half, as Ephrata battled to find an equalizer.
Just a couple of minutes before the half, Grandview's Steve Jacobo delivered a shot attempt that brought Ephrata's keeper out of the box. The carom bounced Euladio Lua's way and, with his back to the net, the Greyhound defenseman calmly flicked in the goal with the back of his heel.
Scores in the final minutes of the half have often gone in favor of Grandview's opponents this season. Holden said it was crucial for Grandview to be the recipient of a last-minute goal this time.
"It's huge," she said. "At the half instead of having to talk about a challenge for the second half, we have the luxury of a 2-0 lead."
The late goal was a momentum swing heading into the second half, and may have been a game-breaker for Ephrata, which averaged just one goal per contest during the regular season.
Just to be sure, though, Grandview added on two more goals in the second half to remove all doubt.
About the only blemish on Friday's gem was a Grandview let down in the last 12 minutes, during which Ephrata scored its lone goal on a penalty kick.
Holden sent her starters back into the contest to stem the Tigers' momentum and later chastised players for letting up late. "The game is not done until the final whistle," she said. Noting that kind of play will burn them in the playoffs, Holden said the Greyhounds were "scorched" by the late lesson delivered by Ephrata.
The late lesson aside, Friday's outcome was a happy time in Greyhound land.
It was the first time in nearly 10 years that Grandview got to host a boys soccer playoff game and, with a win in this coming Tuesday's 4 p.m. second round match with East Valley, the Greyhounds will indeed punch their ticket for their first State playoff berth in six years.