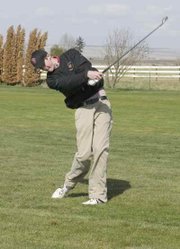 WENATCHEE - With the exception of senior Justin Bos, the Sunnyside High School boys golf team wrapped up its 2008 campaign yesterday at the final Columbia Basin League POD match of the season.
Only the top 28 golfers from the Columbia Basin League get to advance to Regionals this coming Thursday at Richland's Horn Rapids Golf Course. There, they'll fight it out over 36 holes with the top 3A golfers from the Spokane area for the 12 berths to this year's 3A State tournament.
With this being a rebuilding year for the Grizzly golf program, it's no surprise that Bos is the lone Sunnyside linkster to qualify for Regionals. The senior, in seeking a second trip to State, ended up as the Columbia Basin League's 12th lowest scorer this season.
"That earns him second team all-league honors," said Sunnyside Coach Ryan Wattenbarger.
The first year Grizzly coach went on to say that he likes Bos's chances of advancing to State.
"The top 12 from Regionals go on," said Wattenbarger. "He'll be right there with the other top guys from our league."
Bos will also have to contend with the Greater Spokane League's top 3A golfers at Regionals. Still, said Wattenbarger, "...Justin will definitely be in the mix."
The Horn Rapids track where Regionals will be staged is a long, target, desert-style course that fits Bos well. A State tournament qualifier as a sophomore, Bos is extremely long off the blocks and should his drives and long-irons stray, the course is fairly forgiving.
"Justin has gotten in four or five practice rounds at Horn Rapids recently," said Wattenbarger. "He's been shooting in the mid-70's.
"I like his chances," the coach added.
Yesterday in the final league match of the season at the Wenatchee Country Club, Bos turned in the 13th lowest score, carding a 13-over-par 85. Bos's score from Monday's round isn't all that impressive, until you take into account that the Wenatchee Country Club greens are more slippery right now than an ice skating rink.
"All of the scores were very high yesterday," said Wattenbarger. "The greens there are very slick."
Bos ended up going 42 on the front nine, absorbing a 43 after the turn.
Second in for the Grizzlies was A.J. Visser, who attends Sunnyside Christian High School but plays for the Grizzlies because his school does not field a golf team. Visser had front and back nines of 50-48 to keep his score under the century mark.
Rounding out the team scoring for Sunnyside Monday afternoon were Nathan Espinoza (54-48-102) and Nick Navarro (57-53-110).
Also competing yesterday for the Grizzlies, although their individual rounds weren't applied to Sunnyside's team total, were P.J. Garcia (66-64-130) and Jose Luis Mendoza (73-79-152).