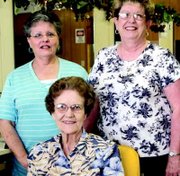 Neva's Beauty Salon on South Sixth Street has been a mainstay in the community of Sunnyside for more than 30 years.
Its stylists have become familiar with many of the customers who have been coming to have their hair cut and styled at the beauty salon for the business' duration.
When owner Phyllis Wheeler announced her retirement, stylist Joyce Wyckoff felt the need to keep the salon open.
"Phyllis had two options...she was either going to close the shop or have it sold," said Wyckoff.
Because she felt the customers, who are older women, might have difficulty adjusting to a new environment, Wyckoff decided to purchase the salon.
"I have been working for Phyllis for 35 years," she said, stating that many of her customers have been regulars for 30 years or more.
Becky Hilderbrand, a friend of Wyckoff's since third grade and fellow stylist, had been helping Wyckoff during Wheeler's recent illness.
Wyckoff had worked with Hilderbrand for 27 years and Hilderbrand had been absent from the salon for approximately 10 years prior to her return.
"I asked Becky to stay and help me," said Wyckoff, stating that she would not have purchased Neva's Beauty Salon if Hilderbrand had declined.
Wyckoff said she was happy when Hilderbrand agreed to remain at the salon.
"It's not much of a stretch to go from leasing my station to owning the salon," Wyckoff said.
She stated that the biggest difference from being a small business owner leasing her station to a small business owner of the salon requires a few extra responsibilities.
"I have to make sure the business taxes and utilities are paid," Wyckoff explained.
She said additional responsibilities include ensuring the lease for the building and other business-related expenses are taken care of.
"I never really dreamed of owning my own salon," Wyckoff said. But, she was motivated by the fact that she wanted to serve her customers, whom she said she values.