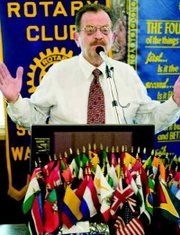 Sunnyside Noon Rotary Club members learned yesterday (Monday) that by Feb. 17, 2009, all American television stations must switch their broadcasting from analog to digital.
According to PBS KYVE General Manager Ken Messer, those with cable or satellite television will not be affected and will continue to receive programming.
Those with analog television sets not connected to cable, satellite or without a digital television converter box will not receive any television signal.
Messer told the Rotarians digital television is an innovative new type of broadcasting technology that will transform their television viewing experience. TV stations will be able to provided clearer pictures and with better sound quality.
It is estimated 20 million households receive only over-the-air television signals in their homes and approximately 70 million television sets are at risk of losing their signals after Feb. 17, 2009, if owners of these sets do not make the easy transition to digital television.
Messer said viewers can go to www.dtvanswers.com to get up to two $40 vouchers per household to purchase a digital television converter box.
Messer also briefly spoke to Rotarians about the PBS channel he oversees in Yakima.
Messer, who has been with the station for the last three months, noted KYVE began broadcasting Oct. 30, 1962 and currently serves an audience size of over 250,000. The KYVE signal covers Cle Elum to Prosser and is a full power, non-commercial station broadcasting both in full high definition and multi-casting with V-me and KCTS Creates.
KYVE operates on a $500,000 yearly budget and receives 62 percent of its funding from viewer memberships.