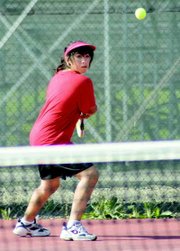 The Sunnyside and Grandview high school tennis teams were matched up in a non-league match against one another yesterday at Sunnyside High School.
The Sunnyside girls earned a 6-1 victory over the Lady 'Hounds, while the Grizzly boys team fell to Grandview by a score of 4-3.
Sunnyside No. 1 singles player Sasha Castro earned the first win for the girls team with a hard fought 4-6, 6-2, 6-1 victory over Grandview's Rosi Godinez.
Hannah Marro of Sunnyside handed Lady 'Hound Haley Lindsley a 6-0, 6-1 defeat in No. 2 singles play, and Jessica Hernandez of Grandview lost 6-2, 6-1 to Lady Grizzly Avalon Valencia in No. 3 singles play.
No. 1 doubles players Christine Penwell and Gabriella Sauve of Grandview earned a hard fought 6-2, 6-7 (7-5), 7-6 (3-7) victory over Sunnyside's Madonna Gonzalez and Regina Mendez.
Grandview Coach Jaime Morales said the No. 1 doubles match-up was a "three-hour marathon match" and he felt Penwell and Sauve performed well, exhibiting endurance against "a very gutsy effort from the Sunnyside girls.
"I was pleased with how well my young team members played. Gabriella Sauve played great in place of Sydney Mottice and Christine (Penwell) has been playing excellent all season long," said Morales.
In No. 2 doubles action, Bo Kim and Cristal Sandoval of Sunnyside handed Grandview's Tania Valdez and Erica Gonzalez a 6-4, 6-3 defeat, and No. 3 Lady Grizzly doubles players Jamie Zijlstra and Cindy Gudino defeated Grandview's Samantha Wyatt and Mary Gamino 6-3, 7-5.
Sunnyside Coach Dave Downing said he felt, "The girls played with a lot of heart."
He said the match exhibited the endurance of the Sunnyside players and he said it provided an opportunity to improve on certain aspects of play for this coming weekend's District playoffs.
The Sunnyside boys lost a tight 4-3 match to the Greyhounds. Downing said he was impressed with the performance, considering the team just returned from the Inland Empire tournament in Spokane.
Morales said, "Ezekiel Zamora got a huge win for his first varsity match at No. 4 singles to get the (Grandview) boys a team victory." He added, "(The win) was a great way for a freshman to end his first season."
Zamora defeated Sunnyside's Anthony Kim 6-3, 4-6, 7-6 (8-6).
Sunnyside No. 1 singles player Jay Kim lost to Greyhound Rodrigo Fajardo 6-2, 6-4, and Sunnyside No. 2 boys singles player Matt Johnson handed Grandview's Jose Madrigal a 6-2, 6-1 defeat.
In boy No. 3 singles play, Sunnyside's Jorge Pacheco earned a 6-0, 6-1 victory over Grandview's Ryan Rodriguez.
Sunnyside boys No. 1 doubles players Jonas Linde and Daniel Wavrin were defeated 6-0, 6-4 by Joey Diaz and Edgar Candido.
Grandview No. 2 boys doubles players Gabe Contreras and Christian Schrank lost 6-1, 6-4 to Grizzly players Mike Martin and Joey Zijlstra.
Finishing the boys action was Roli Solis and Justin Moreno of Grandview and Spencer Jaquish and Anthony Aguilar of Sunnyside in No. 3 doubles play. Solis and Moreno won the match 5-7, 6-1, 6-4.
The Sunnyside squads return to the court Saturday, May 10, in Hanford for District playoffs, and the Greyhounds return for Sub-District competition in Selah Saturday.