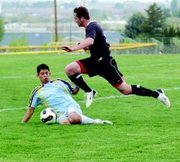 GRANDVIEW - In a battle of CWAC South soccer powers last night-and with a State berth on the line-it was Grandview prevailing, but only just, in a 1-0 win over East Valley.
The visiting Red Devils sent Greyhound keeper Teclo Perez flailing about the box Tuesday night, diving to the turf for a one-on-one stop in the first half and reaching skyward to just tip away an East Valley shot attempt in the second half.
It was the Red Devils' near miss in the second half that worried Perez the most. "I was just trying to keep my head in the game and that one was too close."
There were many close calls for East Valley, and Grandview, which combined for 24 shots on goal in the contest. Perez praised his back line, but even they couldn't contain the defending State champion Red Devils and the eight acrobatic saves they forced the junior keeper to make.
East Valley stopped 15 Greyhound shot attempts, but it was the one that got away that allowed Grandview to escape with the win. The decider came on a goal by Euladio Lua just two minutes before the halftime whistle.
Grandview had earned a corner kick and Jorge Magana's boot sailed long enough for Lua to sneak in from the left side and head the ball into the back of the net. "I saw the ball and decided to go hard and see what would happen," said Lua, wearing an ear-to-ear grin after the State-clinching playoff win. It was the second goal in two playoff games for the junior defenseman after scoring only one goal during the entire regular season.
East Valley had plenty of chances to tie in the second half, and Grandview had opportunities to pull away. The Greyhounds' best hope came on a breakaway run by Sammy Villa, but his attempt was snared by the East Valley keeper.
Grandview, CWAC South champs with an overall season record of 13-3, now advances to the District title contest at home against CWAC North champ Quincy this Saturday, May 10, at 3 p.m.
After receiving a celebratory water cooler drenching, Coach Anne Holden said the title tilt is icing on the cake. "The pressure's off," she said. "It's gravy."
Whether Grandview travels or stays home for the first round of State play, Holden said her squad will be ready to "play anyone, anywhere."