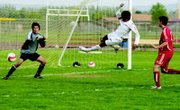 After earning its first ever Columbia Basin League title, the Sunnyside High School soccer team earned its second straight State berth last night with a 1-0 win over league rival Kamiakin.
The win sets up a showdown this Saturday, May 10, with the Eastmont Wildcats, at 1 p.m. at Clem Senn Field in Sunnyside. The winner will add District and Regional trophies to its resume and be the number one seed to State from this region. The loser will represent the region at State as the number two seed.
Last night's affair was a low-scoring game but Sunnyside controlled the game from the start.
"I think Kamiakin was very fortunate we didn't finish on some of the opportunities we had," Sunnyside Coach Juan Pineda said.
He added his team was on the Braves in all aspects of the game and this 1-0 win feels much better than last Friday's 9-1 blowout over North Central.
Sunnyside and Kamiakin split during the regular season and Pineda said he was worried about Gavin Richter, one of the Braves' top players.
The worrying was for naught, though, as Sunnyside's Matt Jongsma shut down Kamiakin's main threat.
"Matt has done a sensational job of neutralizing key players from opposing teams," Pineda explained.
He credited his whole team with last night's win, noting the Grizzlies came out strong. His defenders, he said, were very disciplined, focused and were constantly communicating with each other. He called the work of his mid-fielders tremendous and applauded the work of his forwards.
The game was decided early on in the third minute of play. After Sunnyside had some strong attacks, Jesus Gudino collected a rebound for the Grizzlies. He saw an open space where Jesus Solis was and sent a quick pass between Kamiakin players to his teammate. Solis then blasted the ball to the right side of the net and past the keeper.
"It's always an advantage when you score first," Pineda said. "It makes the other team want to score so they have to open up. Then we can exploit that open space."
Pineda said the early lead allowed Sunnyside not to rush, but instead control the tempo of the game, putting pressure on the Braves.
The Grizzlies had 12 shots on goal compared with Kamiakin's eight. The Braves' keeper saved nine shots and Sunnyside's Joaquin Perez saved six.
Pineda praised the play of Solis.
"He scored the goal and then became a defender on the front line for us," he said. "That limited a lot of Kamiakin's attacks."
He said Jordan Esqueda was instrumental at his position as stopper, noting he shut down many of Kamiakin's runs.