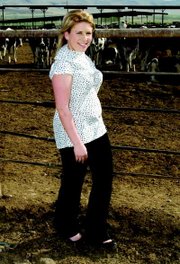 Ever since Mabton's Krystal Leyendekker was a little girl she has always looked up to the Yakima Valley Dairy Ambassador. On Thursday, May 15, Leyendekker will get her chance to be a role model for young dairy women when she is crowned the 51st Yakima Valley Dairy Ambassador.
The 17-year-old Prosser High School junior wasn't sure she would be able to run for the title a year ago. She's busy with school, which requires her to spend three hours a day at the Sunnyside Beauty Academy. There she is enrolled in the cosmetology program through Yakima Valley Technical Institute. During summer break she will spend eight hours a day studying at the beauty academy.
Leyendekker is also a member of the Prosser High School cheer squad, which takes up even more of her time.
But after talking to officials in the Yakima Valley Dairy program she felt she would be able to handle the added responsibility that comes with being an ambassador.
Leyendekker is the daughter of Sid and Tammy Leyendekker and is a third generation dairyman on her father's Hidden Valley Dairy in Mabton. She's worked most of her young life on the dairy, starting out pulling weeds.
She credits her work on the family dairy for instilling in her the tools to allow her to accomplish anything.
"I like the thought of being a positive role model in the valley," she said.
While spending the next year as the Yakima Valley Dairy Ambassador, Leyendekker said she plans on promoting the value of having milk vending machines in schools. She called 17 high schools in the Yakima Valley and found that only four of them have milk machines in their schools.
"Promoting milk vending machines in schools will not only benefit the dairy industry but will benefit the children as well," she said. "It's very important for students to have dairy products and I want to educate them on the importance of that."
Leyendekker feels she will be able to get her message across by the sheer power of her title. She noted kids will pay attention to her because she is the dairy ambassador.
"I feel like I have a voice now," she added.
Leyendekker will be given the title May 15 at Snipes Mountain Restaurant in Sunnyside. A social is planned for 6:30 p.m. with dinner at 7 p.m.