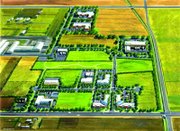 The Port of Sunnyside has awarded the bid for phase one construction of its industrial/business park.
"This is pretty big for the Port and what we're trying to accomplish," said Jay Hester, the Port's property development and project manager.
Hester explained that in 2003, the Port approved a plan for the 106-acre site located adjacent to East Edison Road.
The bid has been awarded to Sharpe and Prezler, who will construct the road, utilities, infrastructure and landscaping.
The Port already has Blueline Manufacturing and a medical clinic that will be housed at the park.
Phase one construction costs exceed $1 million and will be funded by Community Economic Revitalization Board money, Supporting Investments in Economic Diversification funds and Port funds.
The Port will host an industry appreciation barbecue and groundbreaking ceremony at the site on June 3.