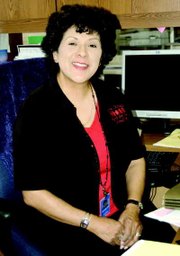 GRANDVIEW - After having served as president-elect for the Washington Association of Educational Office Professionals, Grandview School District Superintendent Secretary Rachel Ott recently was installed to the position of president of the organization.
She said one of the main goals of the organization is to raise funds for scholarship programs for members of the group and students within Washington state.
Ott stated she was once a recipient of three scholarships offered by the organization. Those scholarships allotted her the opportunity to complete her education and receive her Bachelor's degree in human resources, with a minor in education.
"It's a really great organization," she commented, stating that support from both Superintendent Kevin Chase and her husband has helped her achieve many goals.
Ott said she will serve in the presidential seat of Washington Association of Educational Office Professionals for one school year and will move into the seat of Past President following her tenure.
"It shows the group has a lot of faith in my abilities," she stated.
She said there are 21 office professionals on the state board of the organization, however the association has a membership of more than 400.
In her role as president, Ott said she plans to encourage professional development, recruit members and help raise funds for the scholarship programs offered by the organization.
Her theme for her tenure is "Guiding the Way for Others" and she has hopes of providing direction for the success of students and professionals within the state.
Ott will also oversee the direction of the association. She said, "Whether that means more emphasis on professional development or other areas of concern."
She said she feels it is her goal to help others become successful and it is a honor to serve as a representative of the state.
During her time as president, Ott will travel to the national convention and will have the honor of carrying the state flag.
"The association is a group of people who influence children, supports one another and doesn't serve as just a social group," Ott stated.
She said the organization believes in becoming a resource for its members, serving the children of Washington.