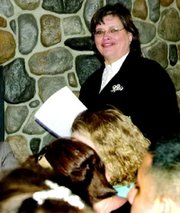 The computer system at Sunnyside's Lower Valley Crisis and Support Services is in need of a server, according to Julia Hart, who spoke at yesterday's Sunnyside Chamber of Commerce meeting.
Hart is a board member for the non-profit organization and said the computer system in place currently contains all wiring necessary for internet access and networking with one another. However, the building in which victim advocates and staff members work does not have a server for the computers.
Hart said she and Carol Stone have been working together to serve the duties that would typically be performed by the Crisis Center's executive director.
She said following Ricki Tebaldi's passing last year, the organization has had three interim executive directors and is in the process of seeking a qualified person to fill the vacancy.
In the meantime, Hart's discovery that the center had only two computer stations connected to the internet was surprising.
"The staff isn't connected to one another," she stated, saying she feels it is vitally important for staff members to not only communicate with one another, but to be afforded technological means for communicating the needs and statistics regarding those whom they serve.
Hart said she attended a Lower Valley Soroptimist meeting recently for the purpose of speaking to them about the services provided by Lower Valley Crisis and Support Services.
"We provide services for those affected by domestic violence or sexual assault," she explained.
The services are valuable to victims throughout the valley and funding is provided by a variety of sources, including the state of Washington.
To obtain funding statistical data is often required and Hart said some staff members have been known to provide data via post-it notes due to the lack of being connected by computer and the inability to connect with the internet.
As a result of Hart's presentation to the Soroptimists, she said the service organization offered to sponsor a fundraising event for Lower Valley Crisis and Support Services.
Hart said the fundraiser will be a barbecue event to help with the costs of obtaining a server. The event will be held at Snipes Mountain Restaurant and Microbrewery from 5:30 to 9 p.m. on Thursday, June 12. The cost for a dinner is $25.
"I have been actively involved with Lower Valley Crisis and Support Services for nearly 30 years...the services provided to the community are 24-7," Hart said, encouraging those attending the Sunnyside Chamber of Commerce meeting to participate in the fundraiser.