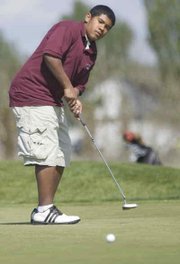 Grandview High School's Kyle Womach paced the Greyhound linksters at yesterday's CWAC season finale against the visiting Prosser Mustangs and Quincy Jackrabbits.
Womach, a senior, fired a team-low 92 on front and back nines of 48-44.
"It's not his best round ever, but it was his best this season," Grandview Coach Dave Uggetti said of Womach's performance Thursday afternoon.
Five shots back of Womach was teammate Josh Jardine. He toured the Black Rock Creek course with a 97 on consistent nines of 49-48. Two shots back of Jardine was the Greyhounds' Ryan Contreras (49-50-99).
Rounding out the scoring for Grandview was senior Greg Gonzalez. The first-year golfer notched his best-ever round, shooting a 103 on front and back nines of 49-54. Gonzalez's previous best 18-hole score was a 112, recorded last week at the Suncadia Resort course.
Tim Broadie also competed for Grandview yesterday, although his individual round wasn't applied to the team total. Broadie, like Gonzalez, recorded a personal best in shooting a 112 (58-54). Prior to that Broadie's best score had been a 126.
Team-wise Thursday, Prosser won the CWAC league match with a team score of 370. Tommy Contreras paced the Mustangs with an 80. Quincy, behind Marty Field's 91, finished second yesterday with a 383. Grandview tallied a 391.
The Greyhound linksters were scheduled to get in a practice round at Horn Rapids Golf Course in Richland today (Friday), in preparation for next Monday's District tournament at that site. At Districts, the 15 low scoring CWAC golfers will earn the right to move on to the 2A State golf tourney.