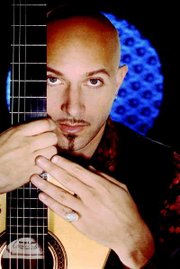 YAKIMA - World-renowned guitarist Andre Feriante will return to Yakima for a special concert at the Seasons Performance Hall Friday, May 16.
Feriante grew up traveling from Yakima to Rome, Italy. His family remains in Yakima.
He has been the featured artist of many concert events in Yakima, and has become internationally known for his classical and flamenco guitar talents.
Feriante trained with Andres Segovia in Madrid in a master class, attaining further skills in his musical mastery. As a result of his experience, Feriante will include a special tribute to Segovia, telling stories of the mentor during the May 16 concert.
He recently performed his 10th annual anniversary Valentine's Day concert at Benaroya Hall in Seattle and received high praise for the performance.
Feriante has also performed with musical artists such as "Heart" and "Alice in Chains," and was named among MSN's "12 Sexy Bald Men."
He has played in venues in Europe, South America and throughout the U.S.
Feriante's music is described as "...sensual, contemporary sound to an otherwise traditional genre."
He blends classical, flamenco and Brazilian styles for the purpose of appealing to audience members from all walks of life.
Feriante has been noted to say his music "...is about feeling and taking people to a place of beauty and how we're all connected, no matter our differences."
His most recent CD, "Bohemian Boulevard," debuted at number one in 2005, and won the Best World Music Album, the New Age Reporter's Lifestyle Award and was showcased on National Public Radio's "Hearts of Space."
Feriante has been compared to Andres Segovia for his musical style on the guitar and his vocal style has been compared to that of Leonard Cohen.
Tickets for Feriante's concert are available at the Seasons Performance Hall for $15. They are also available by calling 509-453-1888 or at the door, if available.
The Seasons is located at 101 North Naches Avenue in Yakima, and the concert is slated for 7:30 p.m. on May 16.