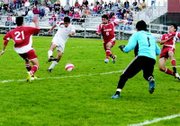 The Sunnyside High School soccer team used a strong defense to claim a 2-0 victory over the Eastmont Wildcats this past Saturday.
The win gives the Grizzlies both the District and Regional titles.
The Grizzlies scored their third straight win over the Wildcats this season and will now face the Kamiakin Braves for the fourth time this season, in the first round of the State tournament. The loser-out game will be Tuesday, May 13, at 7 p.m., at Clem Senn Field.
Sunnyside had already secured a berth in this year's State tournament but Saturday's win gives the Grizzlies the number one seed from the Columbia Basin and Greater Spokane region.
Both teams came out Saturday playing a high level of soccer. Sunnyside's offense kept pressure on the Eastmont defense early on and had several scoring opportunities but missed on their first five shots.
In the 37th minute of play fortunes changed for Sunnyside. The Grizzlies' Humberto Bermudez tossed the ball in from the sideline to teammate Armando Ortiz. He took the ball in the air from Bermudez and blasted the ball from inside the 18-yard box for Sunnyside's first score of the game.
Sunnyside rode out the remaining minutes of the first half with the 1-0 lead.
In the 47th minute of play the Grizzlies added to the lead.
Sunnyside's Jesus Solis made a run past Eastmont's defenders and saw himself in a one-on-one situation with the Wildcats' keeper. Solis kicked a hard, curving shot that Eastmont's Jose Gladin got a hand on but couldn't quite control. Ortiz picked up the loose ball and kicked it past three Wildcat defenders and Gladin for his second goal of the day and a 2-0 Sunnyside lead.
"After the second goal Eastmont opened up a lot, but we played conservative on the back, sending limited numbers on top," Sunnyside Coach Juan Pineda said.
This allowed Sunnyside's defense to swarm Eastmont players whenever they had the ball, effectively keeping them away from Sunnyside's goal.
"I made some tactical substitutions to change our style of attack and it worked well since we managed to secure the lead," Pineda said. "My boys are adjusting well to the caliber of playoffs. They just need to pick it up one more level and believe that they each have a champion inside."
Joaquin Perez made six saves for the Grizzlies. His counterpart, Gladin, had nine saves for the Wildcats.
Sunnyside's Matt Jongsma continued to eliminate key players for the Grizzlies.
"His marking is impeccable," Pineda said of Jongsma.
He pointed out the defensive play of Luis Perez and said he was surprisingly happy with the play of the freshman Ortiz.