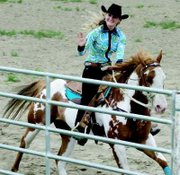 GRANDVIEW - Tryouts to find a queen to represent the Yakima Valley Fair & Rodeo this year took place this past Saturday at the Grandview Fairgrounds.
Selah's Danielle York was the only contestant and was named the 2008 Yakima Valley Fair & Rodeo Queen.
York showed the judges her horsemanship when she rode her horse, Cash, around the arena. After a brief ride she answered questions for the judges.
The 18-year-old Selah High School senior told judges she had been involved with fair and rodeo courts before, so she had an idea of what to expect.
One judge asked York what she thought her one weakness might be.
"I'm a pretty outgoing person but sometimes I do get nervous around some people," she said.
York said she is hoping being the Yakima Valley Fair & Rodeo Queen might help her overcome that.
She said she is responsible, noting she goes to school full-time, works and takes care of her horse.
"I manage to get that all done," she said.
York will represent the organization during the August event, as well as make visits to rodeo sponsors.