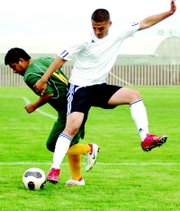 GRANDVIEW - Grandview super soph Sammy Villa picked a fine time for a hat trick, collecting two goals in the first half alone during a 4-2 Greyhound win this past Saturday over previously undefeated Quincy in the CWAC District soccer title match.
Villa, Grandview's leading scorer during the regular season, was relatively quiet during the previous two playoff games. That all changed Saturday, and just in time, too, against a Jackrabbit squad that thumped the 'Hounds 4-0 earlier this season.
Grandview's Oscar Guerrero opened match scoring with a 22-yard blast, bending it like Beckham in the 12th minute to stake the hosts to a 1-0 lead.
Villa broke through for the first of his trifecta just over 10 minutes later, gathering in a long pass from keeper Teclo Perez and beating Quincy all-league keeper Francisco Tafoya in a one-on-one move. Villa exulted in the goal, arms upraised like a bird ready to take flight. With a 2-0 lead, Grandview was indeed soaring. "My teammates get me the ball and I try to use my speed," said Villa.
One minute later, back came Quincy with a goal that beat Perez and suddenly gave the Jackrabbits new life. The battle was on between CWAC South champ Grandview and CWAC North champ Quincy in a bid for the District championship. The Greyhounds kept the pressure on, with Villa using his speed to bedevil the Jackrabbits. Villa bested Tafoya again in the 29th minute, taking in a crossing pass from teammate Cesar Barriga to put Grandview up 3-1.
The 3-1 advantage held through to halftime, as the Greyhounds looked to have the District title and top seed to State all but wrapped up.
Quincy brought up two more attackers in the second half to outnumber the Grandview defensive line and after a series of throat-catching near misses-including one that Greyhound defenseman Euladio Lua hustled back to clear-the strategy finally paid off for the Jackrabbits with a goal in the 66th minute.
Not long after that, Quincy almost collected the equalizer when a miscommunication by the Greyhound defense opened the door ever so briefly for a shot that went awry.
It was all hands on deck and off the bench over the final 15 or so minutes-reserve Victor Garcia hurried in to fill in for an injured Lua during crunch time-to stem Quincy's emotional attack.
The downside to bringing up more players for offense means there are fewer to play defense on the other side of the field. Quincy found that out in the 80th and final minute when Villa knocked home his third goal after gaining control of a rebound from his deflected shot just seconds earlier. Grandview's players swarmed Villa in hugs as Quincy players collapsed to the ground from a mixture of fatigue and despair. Moments later it was all over, with Grandview going 3-0 at home in the District tourney.
For the second time in less than a week the Greyhounds doused Coach Anne Holden and hoisted hardware, this past Tuesday it was a CBL South title and Saturday it was a District championship, the first in nearly 10 years.
It was a scene few could have imagined for a Greyhound team coming off just three league wins last season.
"It means a lot to us to overcome everything and be District champs," said a smiling Villa, noting that the soccer program is loading up on hardware for a Greyhound trophy case long dominated by volleyball and boys basketball. "It's been a long time here since we played this good."
Now it's on to a shot at the biggest hardware of all, a State trophy.
Grandview (14-3) continues its home field advantage into the State playoffs, hosting a first-round game at 5 p.m. this Tuesday against West Valley of Spokane.
State is a single-elimination proposition, and a win Tuesday means that Grandview will stay alive and host a second round State playoff contest this Thursday.