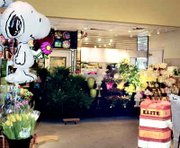 GRANDVIEW - Despite the fact that Grandview's Safeway building was built and opened 10 years ago at its Wine Country Road location, remodeling construction is currently underway.
According to store manager Angie McFadden, the remodel began in late April.
"We won't be extending the building at all," she said. "We're only going to be losing about 100 square feet of sales spaces and that's only because we're adding a Starbucks." The Starbucks will open by the end of June, she added.
The rest, she said, is upgrades.
Not only does that include fresh coats of interior and exterior paint, but new hardware flooring, as well as featured additions.
Once the 10-week remodel is complete, the Grandview Safeway store will feature an olive bar, sushi bar and sandwich station.
"And we'll have a bigger selection of specialty cakes and bakery items and a full service seafood department," McFadden said.
The produce department will expand its selection as well. McFadden said there are currently about 15 organic products in produce; that number will increase to about 55.
The floral department will see some change too. There will be a wider range of products, as well as a full service floral kiosk. "That offers the florist the opportunity to work directly with customers," McFadden said.
One aisle in the store will be removed to make way for a wine cellar.
McFadden said that about 95 percent of the remodeling construction work is being done at night, after 9 p.m.
McFadden said the remodel will lead to about 30 to 40 new jobs, and she's currently accepting applications. She also added that she'll need 15 temporary employees for a three-week period for sampling stations once the store has its grand opening.
McFadden said, "We're hoping to make (the store) a bright spot in the community, where people are excited to come see (it)."
She added that it's important to note that store directories will be updated and printed daily during the remodel so that customers have an easier time finding products. "If you can't find something, just ask," she said.
The Grandview Safeway expects to have a "premier party" on July 11 from 4 to 8 p.m. so customers and community members can come see the finished, upgraded store.
Lynda Jo Gross/Daily Sun News
The Grandview Safeway's floral department is freshly painted and the space has been opened up to make room for more products.