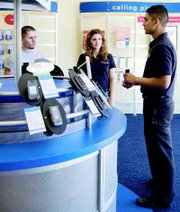 GRANDVIEW - The opportunity to expand its services to Grandview was provided to Totally Cellular, a U.S. Cellular agent, and the company decided to take advantage of the venture.
According to store manager Belen Barnes, who also manages the company's Sunnyside and Yakima locations, Totally Cellular believes in providing quality service and convenience for its customers.
She said there is a lot of planning involved in managing three stores, but she feels the staff at all three locations are highly trained and capable of providing customers with a gratifying experience.
"We are there to provide customers with all their cellular needs," Barnes stated, saying the Grandview store offers cell phones, a variety of cellular plans, warranties and accessories.
Five well-known brands, including Motorola, LG and Samsung are available to customers of Totally Cellular.
Barnes said the store has been gaining recognition in Grandview since its Feb. 27, 2008 opening.
"There has been good interaction between staff members and the customers," she said, stating that the positive experience of being in a store with staff members who cooperative with one another is important to customers.
Barnes said the reputation of the Grandview store has gained recognition among community members, and she feels the quality of service provided has also provided positive gains.
"I think customers pick up on an atmosphere that contains staff members who don't get along," said Barnes.
She said the staff members at the Grandview store have a friendly spirit, working together with the understanding that they are on the same team.
"I want people to know that their cellular needs will be met with a smile," said Barnes, stating that she and her staff seek to provide quality service.
"We will follow up in answering questions that we may not be able to answer at the time of the customer's visit...seeking to ensure each question is answered," she noted.
Barnes said her goal for the Grandview store is to serve the community with the best service available and to retain quality employees who will be loyal to customers for providing quality service.
"I want customers to feel satisfied when they visit Totally Cellular," she commented.