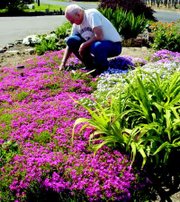 GRANDVIEW - Fifteen years ago, Grandview's Jim Corliss began taking annual Master Gardener classes offered through Washington State University's Extension Office. Presently, he volunteers at the WSU Extension Office Master Gardener clinic, answering calls and fielding gardening queries.
It's the dedication of Master Gardeners to volunteer that has compelled Yakima County commissioners to declare May 11-14 Master Gardener Volunteer Week.
According to Corliss, the program started in King County 35 years ago. Eventually, he said, "It spread to every state in the continental United States."
When Corliss first got involved, he said, "I thought it looked fun and interesting and they'd be a neat group to get mixed up with."
The classes, Corliss said, take place from January through early May and are designed to educate Master Gardener volunteers so they can properly field questions from gardeners.
"We go to classes and learn all these things about soil, bugs, diseases and plants," said Corliss.
"The information we get from classes is all sanctioned by WSU. It's a WSU recommendation rather than someone's opinion," he said. "If it's not WSU recommended, then we can't say anything about it."
Despite the ongoing education though, sometimes Master Gardeners don't have the answers. "If we can't get an answer, we'll call them back with the facts," said Corliss.
Corliss said volunteers man the desk at the clinic three days a week all summer long. For those who can't make the trip, Corliss said a quick call should result in gardening answers.
Corliss said Master Gardeners also write articles for area newspapers. There's also a demonstration park at Union Gap's Country Park. There, he said, "We show how plants can be grouped and that sort of thing. It's well worth the trip to see that." Master Gardeners use the park for demonstrations, as well, like pruning rose bushes.
Corliss also noted the Master Gardeners are a "green" organization. "We take our clippings and put them in the crusher and use them as compost."
The WSU Master Gardener program is open to anyone with an interest in gardening. For more information, call the WSU Extension office at 509-574-1600.