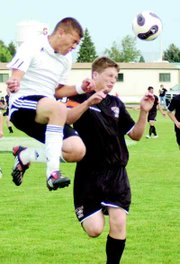 GRANDVIEW - The 28th time was the charm for Grandview High School's soccer team, which tallied a goal in the last second of the last overtime period Tuesday night to eke out a 1-0 State tourney opening round win over West Valley of Spokane.
Twenty-seven times during the previous 89 minutes Villa and other Grandview forwards launched shots on goal from every conceivable angle. Each time West Valley's sophomore keeper, Nick Brown, found a way to keep the 'Hounds at bay. He stopped ground level line drives and arcing kicks in the corner of the goal.
Then there were the wide open tries-not counted in the goal attempt stats-that just simply misfired for host Grandview. Coach Anne Holden attributed some of that to tension and nerves as Brown batted away attempt after attempt.
Then came the 90th minute. With dirt flying in front of the goal, Greyhound Cesar Barriga fired a shot that Brown somehow blocked. Grandview's Sammy Villa knocked in the golden goal off the carom from Barriga's deflected shot attempt.
"It was a 50/50 ball and I was just trying to get to it," said Villa, whose head and face were covered in dirt after battling the keeper for the ball.
For a split second, Grandview's joy over the win was tempered by a fallen Villa lying in the dirt after he was inadvertently kicked by Brown in the decisive tussle.
Villa was helped to his feet by teammates, then off his feet as he was held aloft with shouts of, "You saved us!"
Villa saved Grandview from a point-blank shoot-out against their nemesis Brown.
"After their guy stops 27 of our shots I don't think we'd want to go up against him in a shoot-out," said a relieved Holden. A shoot-out would have been even more problematic for the Greyhounds as defender Euladio Lua, one of Grandview's shot makers, hobbled from the match late with a hamstring injury. Holden confirmed that "Bird," as they call him, would have been unavailable had a shoot-out ensued.
With the win, Grandview (15-3) stays alive in the single elimination 2A State tourney.
The Greyhounds now advance to a 5 p.m. Friday quarterfinal match at home against Cheney. The winner will clinch a State trophy and advance to the semifinals next week, May 23-24, in Sumner.