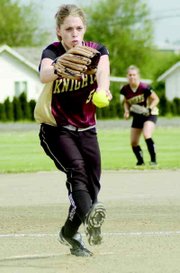 Spinning a no-hitter against the visiting Thorp Tigers Tuesday afternoon, southpaw hurler Hilari Bosma led the Sunnyside Christian High School girls fastpitch softball team to a 10-0 victory in the opening round of the class 1B South/Central District Tournament.
Yesterday's win sends the Lady Knights into this coming Saturday's District title game. Their opponent will be Pateros, 2-1 winners over Entiat yesterday in the other first-round District match-up. Saturday's game will be played at noon at the Sterling Softball Complex in East Wenatchee.
A victory over Pateros on Saturday advances Sunnyside Christian to the State tourney as the No. 1 seed from this region. A loss in Saturday's District championship contest would require the Lady Knights to play a loser-out game at 2 p.m. on Saturday, with the winner of that consolation game advancing to State as this region's No. 2 seed.
In blanking the Thorp Tigers yesterday, Sunnyside Christian (17-4) received a stellar pitching performance from the left-handed Bosma. She allowed just one Thorp batter to reach base, that coming on the only walk she issued in the shortened, five-inning game.
The Lady Knights wasted little time in establishing what the outcome would be yesterday, as they jumped on Thorp pitcher Gina Hutch for seven, first-inning runs.
Lead-off batter Leah Bosma got the first frame started by swatting a single. A bunt single by Abby Bangs and a fly to the outfield off the bat of Emma Newhouse that was misplayed for an error loaded the bases, setting up Hilari Bosma's two-run single. Newhouse then scored on a delayed steal that was misplayed by the Tigers, their second error of the inning. After Naomi den Hoed drew a walk to put two runners back aboard, Julie Long cracked a single to push Hilari Bosma across the plate. Both, den Hoed and Long scored when Ashley Haak put a pitch from Hutch into play. Haak plated the seventh and final run of the inning after Melanie Van Wingerden and Leah Bosma were issued a pair of walks.
Up 8-0 after four innings, Sunnyside Christian brought the game to a halt by plating two runs in the fifth frame, which invoked the 10-run mercy rule. A lead-off double was belted by den Hoed, followed by a pair of singles off the bats of Van Wingerden and Jamie Sveen.
All told, Sunnyside Christian had eight hits against the Tigers, from eight different players.