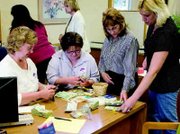 What can copious amounts of chili, several personal items and dogged determination get you? Well, if you're Joanne Looney, it gets you $10,029 to go along with an already raised $1,300 for this Saturday's Relay for Life in Grandview.
Looney, with her daughter-in-law Erine, dropped by AmericanWest Bank in Prosser this past Tuesday night to deposit the large load of cash.
The Looneys have been involved with raising money for Relay for Life the past eight years. The Wapato woman said it started because a close friend of hers was the chairperson for the Lower Valley Relay for Life event.
Joanne and her husband, Metan, were members of the Central Washington chapter of Abate of Washington and through the chapter, a poker run was organized to raise money.
"We all had friends or knew someone that had been affected by cancer," she explained.
As the years went by the number of participants in the poker run never satisfied Joanne's husband. It was he, she said, that decided to host a chili cook-off and auction on their property in Wapato to raise money for Relay for Life.
That first year the Looney's annual chili cook-off raised $3,000 for cancer research. The next year, after getting better organized, the chili cook-off and auction took in another $5,000 for cancer research.
This year the event got bigger.
"Word of mouth got a lot of people involved," Erine Looney said.
She noted the family received a lot of donations from out of the area, along with the usual number of items donated by Lower Valley businesses.
The man who started it all, Metan, passed away from heart complications this past Christmas Eve. The third annual Looney's event went on without its master of ceremonies and Joanne donated a lot of her husband's things for the auction. The money just poured in after that.
His cowboys hats went quickly. A leather vest worn by Metan sold for $680. The winner of this year's poker run donated his entire winnings back. And 300 people gathered on the Looney property to raise money for cancer and say good-bye to Metan.
"He was a wonderful person," Joanne said of her late husband.
Lower Valley Relay for Life Chairman Darrin Truax was amazed at the amount of money Joanne Looney brought in.
"I've been doing this for 10 years and I've never seen anyone raise so much money," he stated.
After this coming weekend's Relay for Life in Grandview, the Looneys will start the cycle anew and get ready for the fourth annual Looney's chili cook-Off next May.