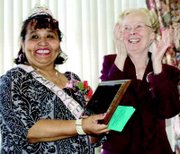 Yesterday, friends, family members and caregivers of Hillcrest Manor residents gathered for the facility's annual care partner appreciation tea.
Speaking at the event were representatives for the families, elders, staff and health care community.
Carol Stone spoke on behalf of the families. She said Hillcrest Manor is the best facility she has come in contact with.
"I have been visiting nursing homes since I was 13," she stated, saying she began her visits when a neighbor from her childhood was housed in a nursing care facility.
Stone said she had not been impressed with many of the facilities she has visited over the years. She said the residents at the first facility she visited felt a sense of hopelessness.
"They didn't think anyone cared about them," Stone commented, stating she decided to honor each resident with a birthday cake on their birthday.
She said she recognized a change in the residents through her efforts, noting that those living at the nursing home wanted to know someone cared about them.
Stone said the care provided by those at Hillcrest Manor impresses her because she feels the staff provides an atmosphere of love for the residents.
"They are willing to address questions or concerns, touching everyone who visits with a smile," she said.
Joe Strunk, a resident at the manor, spoke to those gathered, stating that he enjoys the staff members, food and exercise program at Hillcrest Manor.
He said he couldn't pick a favorite staff member because he loves them all and feels the care provided by the staff members has better enabled him to continue being active.
Stone asked Strunk if he truly enjoyed being at the manor and he replied, "You betcha...things are great with a nice bunch of people."
Following Strunk's testimony, therapist Lisa Foster spoke on behalf of the staff, offering "...a huge thank you to the staff at Hillcrest Manor."
She said she appreciates the staff's willingness to accept suggestions offered by those who offer therapy for the residents at the facility.
"This is one of the best facilities I have worked for with a staff who helps keep the residents mobile as long as possible," Foster stated.
Barbara Dawson, a registered nurse who works for Yakima Valley Community College, teaches the certified nurse's aides at Hillcrest Manor, and said she has had the privilege of teaching 60 students for the facility.
Dawson said she has worked in long-term care for 11 years.
She has been employed by a larger facility than Hillcrest Manor, but feels there aren't words to explain how she feels about the manor.
Dawson said she is impressed by the "family" atmosphere created by both the management and staff members caring for residents at Hillcrest Manor.
"The love, care and compassion...it leads me to say I like everything here," stated Dawson.
Hillcrest Manor Administrator Mary Arthur followed the speakers, recognizing staff members who have worked at the facility for five, 10, 15, 20 and 25 years.
Capping off the event, the Hillcrest Manor Employee of the Year was announced. Ana Claribel Fonseca was honored by staff members and elders at the manor for her willingness to go "...beyond the call of duty."
She was noted for her kindness and smile, her attentiveness to the residents and the care she provides, exhibited by those whom she cares for.