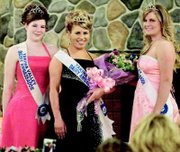 Flanked by Julie Wedam and Alyssa Boogerd, the 2007-08 Yakima Valley Dairy Ambassador and Alternate, Mabton's Krystal Leyendekker was named the 2008-09 Yakima Valley Dairy Ambassador and given her sash and crown at a banquet held last night in Sunnyside.
Leyendekker is the daughter of Sid and Tammy Leyendekker and is a junior at Prosser High School. Along with being a member of the Prosser cheer squad, Leyendekker is a student at the Sunnyside Beauty Academy, where she studies cosmetology.
Leyendekker has spent the last 10 years of her life living on her family's 1,200 Holstein cow dairy with approximately 800 replacement heifers and 200 dry cows. Her responsibilities started with pulling weeds and cleaning calf hutches and eventually she graduated to driving tractor and inputting vet data in the dairy's computer system.
During Leyendekker's speech last night she told those gathered she will promote the use of milk vending machines in schools.
"It's a great way to encourage students to drink more milk," she said.
She said if milk vending machines are put in schools then student milk consumption could increase by 4 percent. That would result in each student drinking one additional gallon of milk during a typical 36-week school year.
Leyendekker called high schools in the Yakima Valley and found only four of them offer milk in vending machines. She realizes it will be an uphill battle. She surveyed students at Prosser High School and found that 370 students drink milk at least once a day and 172 students drink milk more than twice a day. But, when asked if they would like to see milk vending machines in their school, 438 answered no while just 176 students answered yes.
Still, Leyendekker seems undaunted by the numbers and is determined to proceed. She said the success of milk vending machines depends on location, promotion and flavor.
She said 90 percent of teenage girls and 70 percent of teenage boys fall short of the current recommendation of four glasses of milk per day.
"Having milk as a healthy alternative will help students get calcium and other nutrients they need to grow and develop," she added.
Her impromptu question Thursday evening asked what message she would send to the public.
Leyendekker said her message is to educate kids on the dangers of drinking too much soda pop.
"They need more milk," she said.
On a more somber note, Wedam and Boogerd said good-bye last night after serving as Dairy Ambassadors for the last year.
Wedam thanked the Yakima Valley dairymen and said her experience helped her grow in more ways than she thought possible.
Boogerd said the year had been amazing and thanked her parents for their support.