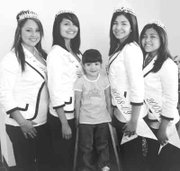 The Miss Cinco de Mayo Court has been assisting in preparations for the May 30-June1 SpringFest to be held at Sunnyside's St. Joseph's Catholic Church.
In doing so, the young ladies have been contacting community members for the raffle ticket sales, which benefit the church and its activities.
"Because sales have been low, the Miss Cinco de Mayo Court devised a Little Miss SpringFest Pageant," said Miss Cinco de Mayo Court advisor Amy Rubio.
She said there are currently five youngsters competing for the title. "They are five-years-old to third grade," she noted, stating the competition is still open to other possible candidates.
Rubio said the Miss Cinco de Mayo Court is assisting the contestants for the Little Miss SpringFest Pageant in selling raffle tickets and will assist the youngsters on stage.
She said the pageant will feature a biography of each girl. The contestants will be asked questions regarding their favorite color and what they aspire to become when they grow up.
Rubio said the experience is intended to recognize young girls within the community, creating a fun activity for them to become involved in. She said it will be up to the newly crowned Little Miss SpringFest's parents as to whether or not to participate in parades.
But, she encourages the parents and community to support the pageant and activities the SpringFest Court wishes to participate in.
In addition to Little Miss SpringFest, three or four princesses will be named at the pageant, and Rubio hopes this year's event will be the beginning of an ongoing tradition.
She said other events at SpringFest will include entertainment, food and a carnival, with bracelets for rides currently on sale for $20 at the St. Joseph's Catholic Church office, located on South Sixth Street.
The Little Miss SpringFest Pageant is slated for 2 p.m. on Sunday, June 1, at St. Joseph's Catholic Church on the stage at SpringFest. Community members are invited to attend.
Those wishing to participate in the Little Miss SpringFest Pageant can contact Rubio at 391-5172 or stop by the offices of St. Joseph's Church from 3 to 5 p.m. Monday through Friday.