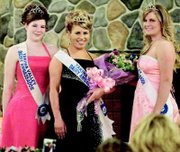 The final four candidates for Sunnyside's city manager post fielded more questions than game show contestants last night during a meet and greet session.
A closed sign on city hall on Fridays, the poor state of some downtown buildings and Tom Paul's political Burma Shave signs were among issues that fueled some of the chit-chat Thursday night at the community center.
The finalists in alphabetical order are Tillamook City Manager Mark Gervasi, McAlester, Okla. City Manager Mark Roath, consulting business owner Michael Stampfler of Portage, Mich. and Yellow Springs, Ohio Village Manager Eric Swansen.
Though some had their favorites, the overall impression by residents, as well as port, chamber of commerce and school officials is that the city can't go wrong with any of the four candidates selected.
Rafaela Sanchez and Luz Balderas, both of Sunnyside, were undecided on their preferred finalist as they helped themselves to some of the goodies provided for the meet and greet reception. Later they laughed and, with translation help from City Clerk Deborah Estrada, said they each had selected a different favorite.
Don Outhet has lived in Sunnyside for the past 56 years, and he says this is the first time he can remember the city having such an open process for the city manager selection. Clutching a blue feedback form the city provided, Outhet said he found a couple of candidates who especially impressed him.
The finalists had their own impressions of the city and its residents.
Swansen, 42, said he was impressed with the Port of Sunnyside's industrial wastewater treatment plant, calling it a "jewel" that can attract added business and industry to the city. He also praised city residents and staff, noting that people have been up front in talking with him. "I haven't found any hidden agendas," he smiled.
Stampfler, 57, said the city needs "more." He said there needs to be more focus on economic growth related to agriculture and the airport needs more attention. As for the current Padelford suit related to housing around the airport, he suggested research to see how many homeowners would fly in to a residence compared to how many businesses would utilize the airport.
As for city hall's current four-day work week, resident Nate Bridges told Gervasi it is a hardship for contractors. Gervasi, 59, later noted he understands the decision to switch to four 10-hour work days may have been economically driven. Even so, he says it's something that needs to be re-evaluated.
As with the other finalists, Roath, 59, spoke some Spanish with residents during the two-hour meet and greet. He said he is impressed with Sunnyside's infrastructure. He pointed to the wastewater plant, as one example. Roath also praised the Sunnyside School District's building projects.
Just before the finalists and city council members departed for a social dinner hour, Mayor Paul Garcia observed the real work begins today, as council will spend much of the day in executive session interviewing the final four individually.
An executive session is also planned for Saturday morning. Garcia said his hope is council will be able to whittle the four to two by the end of Saturday's meeting.