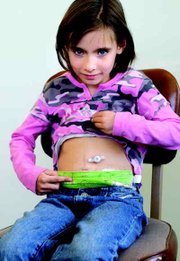 All the signs were there: she suffered a lack of bladder control, came down with rickits, had coffee-colored urine and wasn't growing at the same rate as her twin sister. But it wasn't until December 2007 that 9-year-old Laynee Schneider was diagnosed with end stage renal disease.
Now, a new kidney is at the top of Laynee's wish list.
"My kidneys don't work," she says, matter-of-factly. "That's why I'm allergic to food. Milk, eggs, anything with whey in it, and bananas. Oh, and I'm definitely allergic to lamb, if I eat lamb I have to go to the ER."
Amber DeRuyter, her godmother, interjects, saying, "Because her kidneys don't work, her body can't process proteins and she can't have sodium or potassium.
"She's on a very, very limited diet, that's why she has a feeding tube."
It's been quite a journey for the 9-year-old. Her mother had been told by a healthcare professional that Laynee's bladder control problem was simply the result of laziness. Her school tried to hold her back a grade because of it, believing she simply wasn't potty trained.
The difference in growing between Laynee and her twin sister Kammie was explained away with a genetic excuse, because the two girls are fraternal, not identical, twins. And, says Laynee, "When I had rickits, my hand and my ankles and my legs hurt."
The rickits, DeRuyter explained, resulted from her body's inability to utilize the intake of vitamins.
"It was years of weird things going on," recalls DeRuyter.
By December of last year, the family had answers.
Now, each night when Laynee goes to bed, her mother, Emily Golloday, hooks her up to a dialysis machine.
First came a surgery to install a catheter for the nightly dialysis. Of the surgical procedure, Laynee says, "It hurted. That's when I struck a fever. When I had my surgery, I didn't feel good, I didn't want to eat, I didn't want anybody to talk to me. Mom said I was going to pass out."
When talking about her symptoms, the bubbly 9-year old explains her swelling by holding her breath and puffing out her face, then saying, "My cheeks were like that!"
Laynee couldn't bring herself to speak about the frequent loss of bladder control until the physician that diagnosed her emphatically informed her the incontinence was in no way, shape or form her fault, not a result of laziness.
Laynee says that now, she only hurts at night when the 10-hour dialysis starts. It used to hurt, she said, in the beginning, middle and end of a session, but she's gotten to the point to where she can fall asleep and sleep through the night, until treatment is complete.
She's on a plethora of meds, too. Among her ailments is high blood pressure. She explains what her high blood pressure medication looks like by saying, "It's like a diamond." But there is one forbidden word Laynee hates to use: IV. "Ick! Don't even say that!"
Laynee's not just hoping for a new kidney. She wants a horse, too.
"They have Make a Wish Foundation...when it's your turn to make a wish, they can buy horses...I want a horse."
DeRuyter explained that Laynee's been approved for a wish by the Make a Wish Foundation.
Laynee's loved ones are currently also making an appeal to the television show "Extreme Makeover: Home Edition."
DeRuyter explained that when Laynee's mom and step-dad bought their 1,000 square foot (Laynee refers to it as 'ten-hundred square feet') farmhouse on Factory Road in Sunnyside, Emily and David Golloday intended to remodel.
The tiny house is home to Laynee, her parents, twin sister Kammie, 13-year-old sister Shantana and Elise, who's a year and a half old.
Laynee shares a room with Kammie, Shantana shares one with the baby, and, says Laynee, "Mom and dad have to share a room, too!"
She adds, "When the dialysis machine came, we didn't have much room. Yeesh!"
DeRuyter said that in Laynee's tiny room, there's barely room for the dialysis machine. "They have no room to play," she said.
But the old farmhouse has other problems too, DeRuyter said. "They only have one outlet in that bedroom, so they have to use an extension cord (for the dialysis machine) in the living room."
Another problem in the home, because it's older, is mold. "We need a clean bedroom. If it's not clean, we can't do my dialysis," Laynee said. DeRuyter said it's not for lack of cleaning on her mom's part, it's just an old house. "The mold is in the walls, the windows," DeRuyter said.
But the most pressing issue is the kidney. DeRuyter said Laynee's condition is terminal and doctor's are pushing for a transplant by this coming fall.
In order for that to happen, a donor must be found.
Laynee is currently on the kidney transplant list of the University of Washington's Living Donor program, awaiting a possible match. According to DeRuyter, the following criteria need to be met:
-her donor must have type A or O blood
-the potential donor must be between the ages of 18 and 50-years-old
-the potential donor needs a physical or results of a recent physical.
DeRuyter said obtaining the initial information about the procedure is easy. Call the University of Washington Living Donor office at 206-598-3627 and leave a message requesting an information packet to be a potential donor for Laynee Schneider.